SAN DIEGO ASSOCIATION OF GEOLOGISTS
2017 SDAG Field Trip - Julian, CA
Julian-Banner District: A Road to Gold
October 14 - 15, 2017
SDAG Fall 2017 Fieldtrip
October 14th and 15th 2017. Optional Night on the 13th.
Julian-Banner District: A Road to Gold

The 2017 San Diego Association of Geologists annual trip on October 14 and 15, 2017 will traverse along State Route 78 and 79, from Ramona towards Julian, California. Surficial deposits will be re-examined to draw new conclusions. Curiously propagated gravels atop peaks will bewilder you. A plutonic complex will be observed at a daunting scale. The history of gold mining will be told and lode deposits examined within a mine. Gold prospecting spots will be revealed! A more detailed timeline will be provided, as itinerary can change, but for planning purposes please be ready for an 8am start on Saturday and conclusion of the trip on the following Sunday afternoon. For those not interested in camping, hotel accommodations in the Julian area might be available, but are not included in the registration cost and must be reserved independently.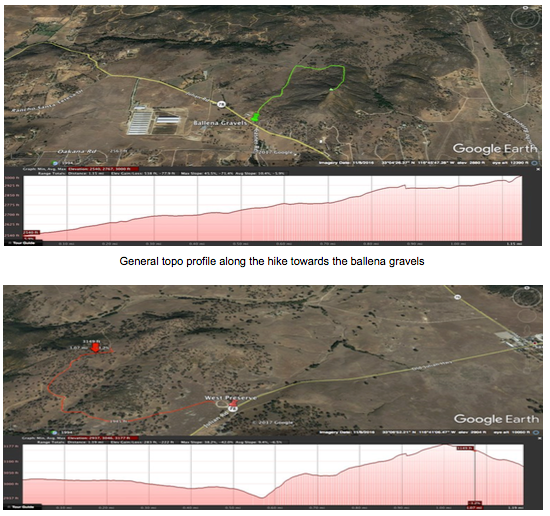 What is included:
Camping access at Menghini Winery
(you will need to provide personal camping equipment)
(portable restrooms will be provided, no showers)
4 meals (Saturday lunch, Saturday dinner, Sunday breakfast & lunch)
Snacks and beverages throughout trip
2017 SDAG fieldtrip Guidebook plus a bonus book
Memorable gift
A good time with friends and associates

Field Trip itinerary
I am happy to announce this SDAG 2017 field trip update and general itinerary. As previously discussed, this trip will take you along State Route 78 in Ramona and State Route 79 through Julian. In an effort to break up the monotony of a typical roadside geology field trip, this year, two short hikes will be incorporated to invigorate you. Prior to crawling underground in the Eagle Mine and visiting the Ranchito mine, we will explore the local geology of the area, including the Ramona plutonic complex, ballena gravels precariously outcropped atop a mountain top, surficial deposits will be re-examined (optional stop time pending), and gold claim/prospecting locations. For your convenience and assurance, that I am not leading you atop a hillside no less grueling as Mount Himalaya; I have provided a topographic profile, courtesy of Google Earth. Please note the itinerary is preliminary and is subject to change.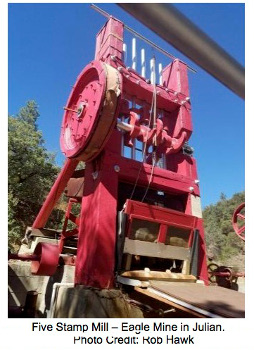 October 14, 2017
0700 - 0800: Registration check-in, continental breakfast (provided), coffee, water, orange juice, receive your memorable gift
0800 - 1100: Hike to the ballena gravels with discussion by Pat Abbott Round trip ~2.4 miles, Gross Elevation Gain ~600 feet
1100 - 1200: Miscellaneous stops pending time, gold claims, Pseudo Tsunami Deposits re-examined (speaker TBD and time permitting)
1200 - 1300sh: Lunch (provided) at Santa Ysabel West Preserve,
1300sh - to 1500: Hike to understand the Ramona Plutonic Complex with commentary by Mike Thacker Round trip ~2.4 miles, Gross Elevation Gain ~500 feet
1500 - 1600: Additional stops, time permitting
1600 - 1700: Arrive at Menghini Winery, set up your temporary homesteads, enjoy light conversation over drinks with friends, enjoy the rare opportunity to camp among the vineyards and orchards of Julian
1700 - ____: Dinner (provided), evening enjoyment and slumber

October 15, 2017
0700 - 0800: Breakfast (provided) and to-go-lunch (provided) for the afternoon
0800 - 1100: Rancito Mine at Right Fender Ranch, with commentary by Monte Murbach and Mike Hart. HIGH CLEARANCE VEHICLES ONLY
1100 - 1300: Subsurface exploration of the Eagle Mine with commentary by the mine's curators. Enjoy your lunch (previously provided) and depart the field trip at your leisure!
1300 - _____: New Stop! Enjoy a very rare opportunity to pan for your own gold on private land. We have been granted access to private property that is a tributary of the famous Coleman Creek. The creek where gold was discovered! This is optional and will require wading water, hiking, and pioneering prospector work, as last year's rains have spurred abundant vegetation along the banks. The owner will be taking a 50% royalty on recovered gold.

-Chris Livesey (SDAG Vice President)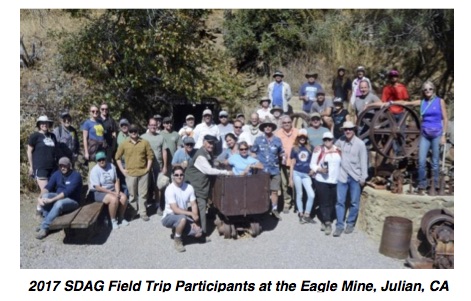 For those who could not attend the field trip, the event was enjoyable and the weather, although hot and windy on Saturday, was bearable. We hiked vigorously and enjoyed talks regarding geology, mineralogy, ecology, and history. Geologic jokes were exchanged throughout the trip!

I had a lot of fun orchestrating the field trip and, at the least, I hope everyone enjoyed the trip. I wanted to express my gratitude to all who attended the field trip and worked alongside me. A lot of planning and help was incorporated into our annual field trip(s) and guidebook(s). In no particular order, I would like to express my gratitude to all that helped: Jen Livesey (who allowed me to spend copious time and effort into the trip, despite the fact she was incubating our twin boys, with a due date of October 11-18 and delivered at a convenient week later, so I could fulfill my duties) Pat Abbott, Bill Elliot, Mike Thacker, Monte Marshall, Monte and Diane Murbach, Martin Learn, Lowell Lindsay, Bob Stroh, Adam Avakian, Ken Haase, Jen Morton, the operation staff at Hollow Creek Ranch, Toni and Mike Menghini, Carole and Mike Ziegler for sponsoring the Menghini wine during Saturday night, The San Diego Historical Society, Gemological Institute of America, JR Morgan, Dave Kimbrough, Marty Grove, and Mike Jensen.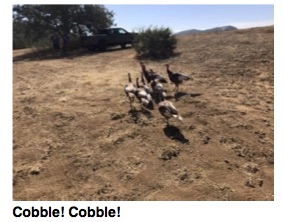 I wanted to leave you with a memory, that I enjoyed for some peculiar reason. During the second stop, near Hollow Creek Ranch (who allowed our attendees to park on their property) our vehicles surreptitiously, by no premeditated intent, corralled a Rafter (group of wild turkeys) for a brief moment. As the jokes continued to roll through the stops, some one yelled out: What is a turkey's favorite rock?

Thank you to all of the 2017 Field Trip Participants. SDAG enjoyed a wonderful trip to Julian led by our Vice President Chris Livesey whose wife just had twins! Congratulations Chris and thank you for a great trip!

A link to more pictures taken by Rob Hawk here: SDAG 2017 Field Trip Pictures