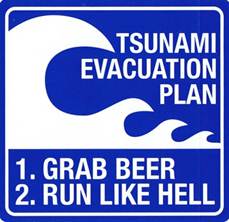 SAN DIEGO ASSOCIATION OF GEOLOGISTS
2012 SDAG Field Trip - Waiting for Tsunami:
Coastal Hazards, North San Diego County
September 8-9, 2012
The 2012 San Diego Association of Geologists annual field trip will examine the coastal hazards and volcanic history of northern coastal San Diego County, California. We will tour San Onofre Nuclear Power Plant (SONGS) and Scripps Pier on Saturday. On Sunday, we will visit Calavera Hill and Agua Hedionda Lagoon.


View Larger Map
Bring everything you need to get a good night's sleep, as well as a folding chair and evening drinking vessel. There are picnic benches in camp. Green-minded? Bring a mess kit, save trash! Please carpool to Guajome Park.

Saturday - Meet at Guajome Park campground at 7:30am, approximately 45 minute drive from San Diego for a continental breakfast. Saturday lunch and snacks provided as well as a BBQ supper feast. Transportation from the park to our stops will be provided. Option for overnight camping at Guajome Park, no additional cost.

Sunday - Continental breakfast, box lunch, and departure. Transportation by private vehicle.

COST: $140 per person. Discount for SDAG members and students. Fee includes guidebook, campground fee, five meals, snacks, and beverages. Fees are non-refundable. All ages welcome.