PRESIDENT'S CORNER:
September 2018,

Hello SDAG readers,

I wanted to thank Jen Morton (past SDAG president) for leading a great One Stop Wonder trip over the holiday weekend. If you were not able to attend the trip, you might be able to recreate the adventurous site in the upcoming One Stop Wonder guidebook (publication date TBD)! I am really excited about it. You too have a chance to be a part of written history by leading your own expedition. Are you unsure how to lead a trip? Come on down to our September meeting to kick around the dirt with our members. We are generally a bunch of helpful geologists and enthusiasts!

My daughter's pre-school is asking for rocks to help teach the kids. I do not think they understood my clarification of "rock types"...sedimentary, igneous, metamorphic, mineral (common or precious quality), sand-gravel-cobble-boulder size, I really could go on, but you get my drift. I am unloading some of my personal stockpile and if anyone else wanted to get rid of your paperweights, they would appreciate the donation. Our September meeting is not until late in the month, so please email me (liveseychris@yahoo.com) before you exert too much effort.

Sincerely,
Chris Livesey -
SDAG President
---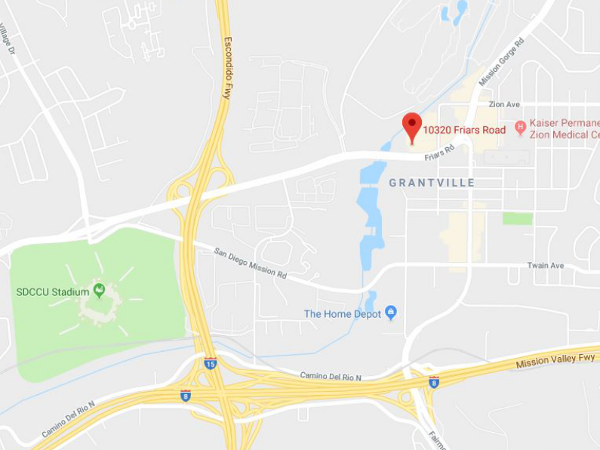 OSW - Observing the Entire Sulfur Cycle in the San Diego River
Date: Saturday September 15th
Time: 1pm
Place: parking lot of Armstrong Nursery (10320 Friars Rd).

This is a new OSW announcement! Our recent speaker and active SDAG member Dr. Norrie Robbins will be leading a field trip to the San Diego River and showing you in person the Sulfur Cycle which she explained in detail for our July meeting. Don't miss this unique opportunity! Details from Dr. Robbins below:

This is a general invitation to you and your students/colleagues to see the entire, amazing, sulfur cycle, on display right now in the San Diego River. I've only seen this in two places on this Earth before (York S spring in PA, and the Iowa fens).

Sulfur oxidizers (white, purple, green), sulfate reducers (black), and anoxyphotosynthesizers are all out right now because the river is anoxic except for the top mm, which is suboxic. This is typical of July and Aug in the River; I've never seen it in Sept. It will completely disappear as soon as it rains, and then will not reestablish until next July. This is under the Friars Rd bridge, near San Diego Mission.

I am willing to take everyone interested, whenever. Don't contact me after it rains, because the sulfuretum will be gone. Afternoon is best so you can see it in sunlight.

It's a very short walk, trip won't take a whole hour, and bring a baggie/vial/whatever if you want to collect the sulfuretum and watch it develop on a sunny windowsill at home. Pass on my invitation.

Norrie Robbins
---
ONE-STOP WONDER CHALLENGE!
ONE OSW A MONTH IN 2018!
BE A PART OF SDAG HISTORY!

Have an idea for a one-day or half-day field trip?
Want to share your favorite aspect of San Diego geology?
Contact SDAG to schedule your One-Stop Wonder!
Your OSW may be chosen to be included in SDAG's One Stop Wonder Guidebook!

Contact Monte Murbach for scheduling! montemurbach@gmail.com
---
---
---
2018 SDAG Field Trip October 12th to 14th 2018
From our Vice President Ken Haase:
Hello SDAG. The field trip details are being finalized and the signup form is ready to go! Please get your signups in early, we have a great trip planned. Sign up sheets can be printed off the SDAG website and either mailed in or taken to the Treasurer at the next meeting. We will also have sign up sheets at the meeting.

Our trip this year will take place from Friday October 12th through Sunday October 14th. Our first stop will be Blue Cut in San Bernardino County and we will venture north from there. Saturday has a few short, flat hikes that provide a wealth of geologic knowledge. We will close out the trip with a tour of Calico Ghost town. If you have any questions about the signup form email Ken Haase at haase@geoconinc.com. We also need Honda 2000 generators for the field trip so we can provide early morning power to the campsite. If you have a spare generator to loan please email Ken Haase. Hope to see you on the trip!

---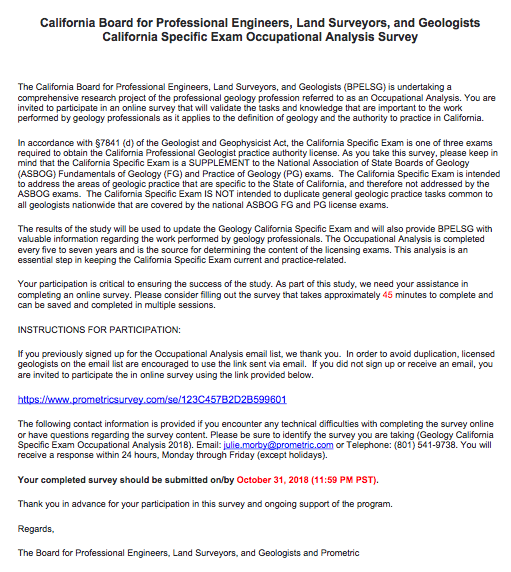 ---
National Association of State Boards of Geology
ASBOGŪ 2018 Fall Council of Examiners (COE) Workshop and Field Trip Marriott Hotel, Monterey, CA
November 1-3, 2018
COE WORKSHOP PRELIMINARY INFORMATION
The National Association of State Boards of Geologists (ASBOG) Needs You!

ASBOG will hold its fall Council of Examiners (COE) Workshop in Monterey, California on Friday and Saturday, November 2, and 3, 2018. A field trip will be arranged for Thursday November 1, 2018. The purpose of the COE is to review the fall 2018 ASBOG examinations just given and review the subsequent examinations proposed for spring 2019. Licensed geologists are needed to participate. While these subject matter experts (SMEs) typically are drawn from among members of various state geology boards, additional volunteers are sought from the COE host state and its adjacent ASBOG-member states that use passing of the ASBOG examinations as licensing requirements. Over the long term, ASBOG has developed applicable and fair examinations used to lead to geologist licensing.

The COE Workshop process is a key component of expanding and maintaining relevant and defensible examinations for applicants seeking geologist licensing. Geologist SMEs play a critical role in providing sufficient professional experience to the COE Workshop, which gives fair weight to all geologist task areas. ASBOG conducts a Task Analysis every 5 years to support the COE's strict examination review process. Analysis results maintain the relevancy and currency of the examinations.

The COE Workshop is a 2-stage process with parallel sessions for both the fundamental and professional examinations. The SMEs receive instruction from ASBOG's psychometrician on the Workshop process. On the first day, each SME unofficially takes the most recently given ASBOG fundamental or professional examination. Then, the psychometrician guides a comparative discussion of the groups' collective examination results with those of the recent, fall examinees. Each item is either accepted as given, double-keyed, or removed from the item pool. Individual examinee comments are considered and discussed. Generally, seldom-used, new, or unclear items are reviewed by the COE group, especially if performance results are of concern. If time permits, SMEs are encouraged to write new items for the item pool.

This process is repeated on the second day to review and test items to be included in the spring examinations. The groups then evaluate the historic performance of items, and improve items that need improving.

ASBOG needs your participation as a COE Workshop SME. Please email a statement of interest, and your credentials and contact information to Ms. Deana Sneyd, ASBOG Executive Director, at dsneyd@asbog.org.

To qualify, each SME must have:

A current license in good standing as a geologist in an ASBOG-member state.
Worked as a professional geologist in industry, academia, or government.
Be prepared to serve on the COE with no ASBOG reimbursement of any travel expenses.
Agreed to ASBOG terms and conditions, provided under separate cover, to participate.

Please Note: This is a VOLUNTEER opportunity. ASBOG is a non-profit organization and is unable to reimburse travel expenses or pay for your time. However, they do provide some meals as part of the COE. The

COE location rotates throughout the country and is unlikely to be in California again for 3 to 5 years. This is a unique and important opportunity to contribute to the geologic profession.


---
OSW - Encinitas Copper Mine - Write Up by Jennifer Morton
Encinitas Copper Mine (a.k.a. Danes Lea Mine) N33.081651 W117.208037
Rancho Santa Fe Quadrangle
Directions:
Take I-5 to La Costa Avenue, head east. Turn left onto Rancho Santa Fe Road and right onto San Elijo Hills Road. Bear right at the roadway to a closed landfill and park on the side of the road. Head south on the easternmost dirt path, next to the landfill building. Arrive at the head of Copper Creek trail. Follow this trail until you reach the waterfall and remnants of the mine workings.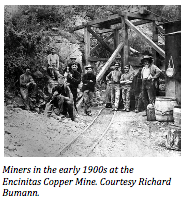 On September 1, 2018, SDAG visited the site of the Encinitas Copper Mine in the La Costa Preserve. The old mine was situated along what is now known as Copper Creek. According to County Report 3, Geology and Mineral Resources of San Diego County, California, published by the California Division of Mines and Geology in 1963, the mine was discovered in 1887 and was worked until 1917.

We were joined by Richard Bumann, local author/historian and a descendent of one of the founding families of Olivenhain. Mr. Bumann's uncle owned the copper mine from the 1920's through 1940's, and he shared some of the history of the mine and boyhood stories of exploring the mines and at one time lowering himself into one of the shafts! Mr. Bumann confirmed that the mine consisted of two shafts, one on either side of the canyon through which Copper Creek flows. The mine was worked sporadically until 1917, producing a low-grade extract than it would be worth! Piles of light-green rocks - the remaining mine tailings - give away the locations of each of the shafts, which have since been blasted shut for safety. The shaft on the east side of the canyon consisted of two horizontal tunnels terminating at a 140-foot deep vertical shaft, and the shaft on the west side was reported to be a vertical 400-foot shaft. The shafts tend to flood with groundwater, and Mr. Bumann's uncle spent many months pumping out water and restoring the shoring in 1925, but the mine was never again worked.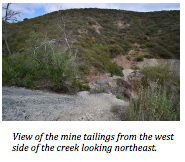 According to the 1963 County Report, the deposit is a northwest-trending zone copper-bearing mineralization, approximately one mile long and 10 to 50 feet wide. The 1939 California Journal of Mines and Geology, Quarterly Chapter of State Mineralogist's Report XXXV describes the vein as a yellowish and black gouge between walls of dark-colored porphyry, and notes that the ore is chalcopyrite associated with pyrite.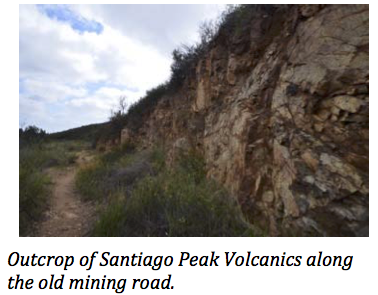 Steven Jacobs provided a great overview of the formation of porphyry copper deposits. These types of deposits typically form as the result of hydrothermal activity. In the case of the Encinitas Copper Mine, as the magma body of the Western Peninsular Ranges Batholith intruded the Santiago Peak volcanics hydrothermal fluids circulated through preexisting rocks, altering these rocks and depositing metals in the matrix or as a coating in fractures on the surface of surrounding rocks.

Monte Marshall was on hand to discuss the formation of the Santiago Peak Volcanics. These are subduction-related volcanoes, similar to the Andes or the Cascades. He noted that a visible outcrop near the mine consisted of a volcaniclastic deposit - one of three types of structures typically seen associated with the Santiago Peak Volcanics. Others include flows and feeder dikes with vertical foliation.

Thank you to everyone who made this a successful OSW!
---
Volcanology Speaker Wanted!
Wavelength Brewery (our last meeting venue) in Vista is looking for a geologist or volcanologist to give a voluntary talk on the recent volcanic activity going on in Hawaii. If anyone is interested in doing this please contact the brewery. Here is a link to their webpage: www.wavelengthbrewco.com
---
Free Back Issues of California Geology
Free back issues of California Geology will be brought forth at this month's meeting. Several years are organized in binders, going back as early as 1967! Also, some paleontology texts, yours for the taking. See Todd Wirths at the meeting. Rock on!!
---
A link to more field trip pictures taken by Rob Hawk here: SDAG 2017 Field Trip Pictures


---

---
As part of the update for the San Diego-Tijuana Earthquake Planning Scenario, Working Group No. 1's "Fault Map Subcommittee" has completed the first publicly available bi-national active and potentially active fault map. This interactive GIS map includes the first publicly available active and potentially active fault map locations from the City of San Diego. The City of San Diego fault locations and activity of faults are based chiefly on interpretation of information contained in geologic reports by private consultants. The City of San Diego identifies active faults as Holocene (<= 11,000yr) and potentially active as Quaternary (up to 1.6my). City of San Diego fault investigations are ongoing that may require future revision of this map. This map is not a substitute for a site specific fault investigation. The map also includes an updated fault map layer from the State CGS. CGS suggests users defer to the City of San Diego fault data, where marked, for increased accuracy. The map also integrated the faults south of the border for a bi-national cross border view. You can expand the map legend on the left side to see the fault ages and sources for each layer that can be turned on or off for the map view. You can select from 1 of 12 base maps. You can click on the fault line on the map to see the meta-data source. This map includes the yellow dashed SURFACE FAULT RUPTURE location layer that will be used for the infrastructure, social, and economic impacts and emergency response for the update to the Earthquake Scenario. In addition, active and potentially active fault investigation locations from private companies are planned to be added to this map as a resource. This map is an on-going project and resource as our knowledge increases about local active and potentially active faults.

The link is available at: http://www.sandiegogeologists.org/Faults_map.html

I would like to thank Carolyn Glockhoff for her endless GIS work, Jim Quinn and the City for providing their data and time, Jerry Treiman with CGS for his time preparing the Surface Rupture and providing their new State fault data layer, and Luis Mendoza at CICESE for providing the faults south of the border. Please contact Diane Murbach (dianemurbach@gmail.com), Chair for the SD-TJ Earthquake Scenario Working Group #1 - Earth Science, if you have any questions, or see any errors on this new fault map.

Diane Murbach
(619) 865-4333
Engineering Geologist, C.E.G.
www.murbachgeotech.com
---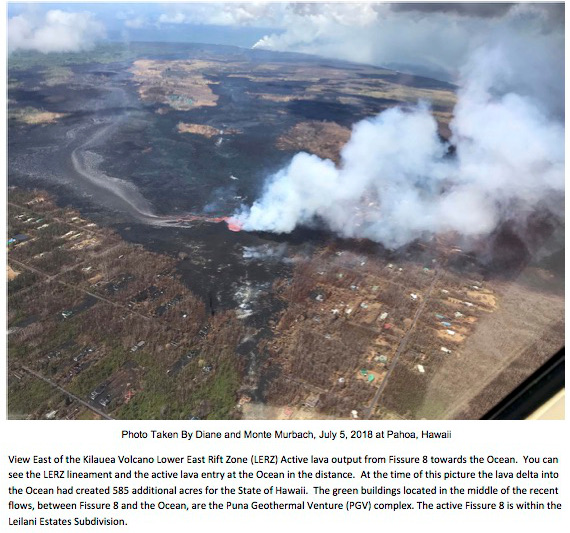 CALL FOR PHOTOS!
That's right!...It's back, the SDAG monthly photo competition, featuring the very best of member photo submissions from around the County and beyond. The prize is one free drink at the next meeting, so if you're a winner, just see our resident bartender extraordinaire, Cari Gomes at the next meeting.....or myself (The Secretary) if it's not a SDAG libation supplied event.

Photo by Diane and Monte Murbach
---

CALL FOR ARTICLES! SDAG invites members to submit articles on their current research or an interesting project they are working on for publication in the monthly newsletter. The article should be no more than 1 page in length. Photos are welcomed, too! Please submit articles to the SDAG secretary via email.
---

Absolution by the Sea - Now Open For Business!!
Long time SDAG member and past president, Cari Gomes, has assisted in opening a new brewery-restaurant called Absolution by the Sea, from Absolution Brewing Company. The restaurant is located at 7536 Fay Avenue, La Jolla, CA 92037. Phone 619-202-4152. Come enjoy great craft beer and food with your fellow geologists!
---
Looking For A Sample of Ardath Shale
I am curating an exhibit for the La Jolla Historical Society about Canyons. We would like to include a specific exhibit - a chunk of Ardath Shale. It ties in to so many of our other items: how La Jolla was formed, ecology and native plants, as well as the issue of landslides. For example, the Soledad Mountain Road slope failure of a few years ago was related to the geology: heavy soils over Ardath Shale...according to the reports I've been reading. I'd like to show our visitors what exactly Ardath Shale looks like.

Does your organization have a sample of this type of rock? If not, can you suggest where I might find a sample large enough to put on display?

Regards,
Susan Krzywicki
susankrzywicki@mac.com
www.susankrzywicki.com
(619) 318-4590
California Native Plant Society, Ocean Friendly Gardens
---

Yosemite Conservancy Outdoor Adventures featuring custom adventures.

---
52nd AESE Annual Meeting - Niagara Falls, New York - September 26th to 29th 2018
Mark your calendars! The 52nd annual meeting of the Association of Earth will take place in Niagara Falls, New York, September 26 to 29, 2018.

AESE's meetings generally consist of 2 days of technical sessions and a 1-day field trip. Please join us for a fun-filled and educational experience September 2018. Meeting headquarters will be the Conference and Event Center Niagara Falls. The meeting hotel will be the Sheraton at the Falls, on Third Street, where a block of rooms has been set aside for attendees, at a nightly rate of US$139 ($129 for room + $10 facility fee).

Niagara Falls has been a prime tourist destination since the mid-19th century. People come from around the world to see just the falls, themselves. But there is so much more to explore on both the American and Canadian sides of the falls, from world class wineries, Niagara Falls State Park (providing close access to the American and Bridal Veil falls), Niagara Gorge hiking trails, and art galleries to the Schoellkopf Power Plant museum (providing easy access to the bottom of the gorge), Niagara rapids jet boat tours, Old Fort Niagara, Niagara-on-the-Lake and more....so remember to bring your passports if you wish to take in all that the area has to offer!

The meeting is open to anyone interested in earth science editing, publishing and outreach. The program is in the initial planning stage. Watch for meeting updates on AESE's web page www.aese.org. A closed Facebook group has been set up to share information https://www.facebook.com/groups/123266368358780/ . For more information, please contact host chair, Marg Rutka, marg.rutka@ontario.ca, and technical program chair, Phil Farquharson philfarq@gmail.com.

---

---

Got too many rocks? Are you (or specifically, your spouse...) interested in giving them a good home *away* from your house and garden? Mesa College is looking to collect some rock samples for an inaugural Earth History course. We are specifically looking for sedimentary rocks that include examples of different energy environments (varying grain sizes and shapes) and structures (ripples, cross bedding, planar bedding, graded bedding, etc.). We are also looking to beef up our fossil collection and are looking for all the major phyla: Echinoderms, brachiopods, mollusks (bivalves, cephalopods, gastropods), arthropods (trilobites and more!), corals (Cnidaria), Porifera, Bryozoa, vertebrates (Chordata), etc. Looking for both actual standalone specimens or in the rock still (showing different environments of deposition). We are looking for fossil preservation examples, and also for good trace fossil evidence. Got any sediment grain samples from cool locales? We'll take them! If you have anything else you think provides a good 'story' in the rock, we are willing to check it out! We are collecting ASAP to assess how much needs to be ordered for the fall course. Please contact Jill Krezoski at JillKski@hotmail.com or Don Barrie at dbarrie@sdccd.edu with queries or samples.
---

ROCK DONATIONS NEEDED: Amy Romano, one of our former student members, is looking for rock donations. Amy is currently attending Humboldt State University and majoring in Geology. She is very involved with Humboldt's Geology Club, and every year the club holds a rock auction to support their activities. If you have any rocks to donate, please contact Amy at ajr612@humboldt.edu.
---
Annual Scholarship Awards by the San Diego Association of Geologists, a program of the San Diego Geological Society, Inc.
A primary function of the San Diego Association of Geologists (SDAG) is to support academic opportunities in geology and related sciences. By-laws of the San Diego Geological Society (SDGS) specify the support of academic opportunity ranging from elementary through graduate levels. The SDAG scholarship program has supported academic research in higher education by awarding scholarships annually to students from two-year and four-year undergraduate and master's level programs. Awards are for outstanding research in geology and related sciences. Nominations are solicited from individual faculty and from geology or related science departments at accredited academic institutions. Evaluation of the relative merit of each nominee is based on an abstract describing the objectives and results of the research being conducted by the student and on the letter of recommendation by the student's mentor or nominating committee.

The annual timeline is as follows:
Request for nominations occurs in September.
Nomination letters and research abstracts are received by the Scholarship Coordinator in mid to late October.
Awardees and their nominators are invited to attend the December SDAG dinner meeting. Scholarship awards are distributed to the student during the December meeting.
Students accepting awards are required to give a presentation of their research results usually at a spring dinner meeting of SDAG.
For further information contact SDGS Board at http://www.sandiegogeologicalsociety.org/contact.html through the Contact Us option
---
SDAG RESEARCH TOOL
A comprehensive listing of all papers published by SDAG, whether as annual field trip guidebooks or special publications, is available on our website. Entries are sorted by primary author, or chronologically by date of publication, from our first guidebook in 1972, up the San Luis Rey River in 2013, from Coast to Cactus in 2014, and finally over the edge to the Coyote Mountains in 2015. These can be accessed or downloaded as .pdf files. They are fully searchable in Adobe Reader or Acrobat, so if you are researching a topic, "tsunami" for example, you can search for that keyword. This listing will be updated as new books are published. Thanks to Greg Peterson and Hargis + Associates, Inc., for making this possible. See the links below:
SDAG publications sorted by senior author.
SDAG publications sorted chronologically.
---
Request for Sponsors: 2018 SDAG/SDGS and Publication SPONSORS
On behalf of the San Diego Geological Society, Inc. (SDGS), a public benefit 501(c)3 nonprofit educational corporation, we would like to request tax deductible Donations at our San Diego Association of Geologists (SDAG)

The list of paid Sponsors and the forms to become a Sponsor are located on the SDAG web site at: http://www.sandiegogeologists.org/Sponsors.html.
Your donation will further the SDGS mission to promote geology and related fields in the greater San Diego region, operating through the San Diego Association of Geologists (SDAG), a committee of SDGS. To achieve our primary educational objective, we organize frequent field trips and maintain a program of monthly meetings featuring speakers on current geological topics. We also publish field trip guidebooks and other publications related to geology and natural history. We encourage scholarship and research by awarding scholarships from the elementary through graduate levels. With your $100 "EMERALD" donation, your name/business will be listed as a sponsor on the SDAG web site (http://www.sandiegogeologists.org/) and in the monthly SDAG meeting newsletters. With your $500 "RUBY" or $1,000 or more "DIAMOND" level donation, your business card will also be included on the SDAG web site and in the monthly SDAG meeting newsletters. In addition, as a "$1,000 or more DIAMOND" level donation you will be presented with a thank you plaque. Should you have any questions regarding a Sponsorship, please contact our non-profit SDGS Secretary (Diane Murbach) at 619-865-4333.
---
SDGS/SDAG
As many of you are aware, the San Diego Geological Society (SDGS) was formed in early 2010 as an official non-profit 501(c)3 corporation, and SDAG is now an organization under this corporation. The reasons for doing this were many and they are spelled out in an informational sheet, the Business Plan of SDGS. The officers of SDGS should be very familiar to you, as they are all past presidents of SDAG. For those of you that would like to read more about SDGS and what it means to SDAG, check out the informational page on the website. Also check out the website www.sandiegogeologicalsociety.org.

---


Annual Meeting 2018
Abstract Deadline: August 14, 2018
Meeting Dates: November 4-7, 2018 in Indianapolis, Indiana
---
VINTAGE SDAG GUIDEBOOKS NOW AVAILABLE FOR FREE DOWNLOAD!
If you want to complete your collection, or just see what SDAG was up to in the 1970s, check out our website's publication page, and scroll all the way down: http://www.sandiegogeologists.org/Publications.html In addition to our very first publication in 1972, a field trip to Otay Mesa, you'll find our 1973 Geology and Hazards of San Diego volume, the first of two guidebooks to the Coronado Islands, in 1978, and our 1987 field guide to the gold mines of Julian. Happy reading!
---

WAREHOUSE AND OFFICE SPACE AVAILABLE in El Cajon
Short-term rental or long-term lease. Warehouse from 3125 to 6250 sq. ft. Two remodeled offices. Mix and match to meet your needs. Ideal for geotech operations; best possible rates, and we are geology friendly. Contact Lowell Lindsay at Sunbelt Publications 619-258-4911 x110.
---

SDAG Wear - Monte (Murbach) has a variety of shirts, hats, visors and even a nice vest with the SDAG logo. A small selection is available for purchase at the meetings; all SDAG wear can be ordered from Monte.
---

DO YOU HAVE AN ANNOUNCEMENT?? Do you have an event, job opening, field trip or other announcement you would like to share with our members?? Just call or email our SDAG Secretary.
---
Wednesday seminars, 1 - 2 pm, SDSU in the Chemistry-Geology Building, room CSL-422. Check http://www.geology.sdsu.edu/seminars/ for details.
Department of Geological Sciences
San Diego State University
San Diego, CA 92182-1020
FAX (619) 594-4372 VOICE (619) 594-6394
*****Parking near campus is limited. There are two lots of meters on the SE side of campus off College, for example and it would be about a 5 minute walk from there. The first lot is meters, and the deeper lot is less expensive ticket machine. *****
The Gordon Gastil Endowed Scholarship Fund continues to seek donations of any amount. Gifts of $ 500.00 or more will be recognized on a plaque to be placed in the remodeled Geology Building. Donations can be sent through SDAG, or contact Pia or Marie, Department of Geological Sciences, SDSU, at (619) 594-5586.
---
Jennifer Luscombe (current student M.S. student at SDSU) and the SDSU-AAPG student chapter officers are beginning the 2016/2017 academic year. Their intention is to support student interest in petroleum and geology related fields. The AAPG student officers are currently organizing an event to stockpile the students with geology supplies and funds to attend the AAPG event in Las Vegas and GSA event in Denver. Details of the event will be forthcoming.
---
---
---
---
---
Meetings are generally held the 4th Thursday of the month at 11:30AM at the Grand at Willow (check their website http://www.labgs.org/ for their newsletter, for more details, and to make a reservation). Reservations Are Essential.

---
---
The SCGS usually meets on the first Monday of every month, in Orange County. For more SCGS information, visit their website at: http://www.southcoastgeo.org.


---
Check the West Coast Petroleum Technology Transfer Council website http://www.pttc.org/west_coast/west_coast_home.htm/ for workshop date and location.
---

Our website manager, Carolyn Glockhoff, can create a link from any Corporate Sponsor's listing on the SDAG website to its company website, if one exists. Also, please send the URLs of your favorite geology sites to carolyn@caro-lion.com for listing on the Geologic Links page. These could be data resources, schools, useful government contacts, geologic software, contractors, laboratories, your own company's website, or anything you think would be useful to your colleagues.
---

DO YOU HAVE AN ANNOUNCEMENT?? Do you have an event, job opening, field trip or other announcement you would like to share with our members?? Just call or email Adam Avakian 2018 SDAG Secretary. Any news regarding upcoming events that may be of interest to the Association or news of your business can be submitted.