PRESIDENT'S CORNER:
I would like to again thank Diane Murbach, Dr. Ken Hudnut (who unfortunately couldn't present due to the government shutdown), and Matt Burgess for providing such wonderful insight into last year's Kilauea eruption at our January meeting. Pleased to see such a great turnout!

If anyone has a One Stop Wonder (OSW) for February, let me know! We are always looking for interesting places and things to see.

Our February 20, 2019 meeting brings us Dr. Vic Camp of SDSU continuing our volcanic themed talks to start 2019. He will present the Early History of the Yellowstone Hotspot Track. I learned about this when I took his class at SDSU but I'm looking forward to a refresher on the topic!

The meeting will be at the Catalina Room at Marina Village, happy hour starts at 5:30 pm at the Walawender Tavern!

SDAG is off to a great start in 2019 and if you have any questions, concerns, want to be a speaker or have a cool OSW just email me!

See you on February 20th!


Ken Haase -
2019 SDAG President
Free AGI GOLI webinar: Professional Geologist Licensure Requirements and the ASBOG National Geology License Examinations
The American Geosciences Institute and the American Institute of Professional Geologists will be hosting a webinar as part of the Geoscience Online Learning Initiative (GOLI) called "Professional Geologist Licensure Requirements and the ASBOG National Geology License Examinations." The webinar will be on Wednesday, February 13th, at 1:00 PM EST. Laurie Racca, PG, Jack Warner, PhD, and Randy Kath, PhD will be speaking at the event.

This webinar will provide an overview of geology licensure qualification requirements in the United States. We will discuss the national licensing examinations for geologists prepared by the National Association of State Boards of Geology (ASBOGŪ) and learn how data from the ASBOGŪ Fundamentals of Geology (FG) examination can be used as a curriculum assessment and curriculum modification tool.

Webinar title: Professional Geologist Licensure Requirements and the ASBOG National Geology License Examinations.
Date and Time: February 13th, 2019 at 1:00 PM EST
Cost: FREE
Duration: 1.5 hours
CEUs: 0.15 CEUs offered for purchase
Registration Link: http://bit.ly/goli-webinar-20190213-register
Information page: http://bit.ly/goli-webinar20190213-about

Please contact Heather Houlton at hrh@americangeosciences.org with questions about this webinar or any other GOLI offerings.
---
The annual California Missions Conference will be in San Diego from February 15-17. This year's Conference is especially unique as it commemorates the 250th anniversary of the founding of the Spanish Alta California Missions in 1769 with the establishment of Mission San Diego de Alcalá at its original site at today's Presidio Hill. Five years later the Mission was moved east to its present location. For those who might be interested in attending the conference and the festivities associated with the Mission's 250th anniversary, please visit the California Missions Foundation website at http://californiamissionsfoundation.org/conference. Sunbelt authors Iris Engstrand and Max Kurillo are scheduled to speak at this conference. Sunbelt Publications will be in attendance as a vendor.

As part of the 250th anniversary of Mission San Diego de Alcalá, the Mission will be sponsoring a Scholar Symposium March 22-23, where papers will be presented about the San Diego Mission. For those interested in attending please visit the Mission's website: https://www.missionsandiego.org/events/2019-jubilee-year-scholars-symposium/. Sunbelt author Max Kurillo is one of the scholars that will be speaking at this event. Sunbelt Publications will be in attendance as a vendor.
---
Dr. John Minch's Celebration of Life will be held at 10:00am at El Adobe in San Juan Capistrano. For those who would like to attend and have not received an Evite, please RSVP to Jason Minch at generationgraphics@cox.net

Dr. John Minch's Celebration of Life
Saturday March 2nd 10:00am-4pm
Lunch & Refreshments
El Adobe
31891 Camino Capistrano
San Juan Capistrano, CA 92675
---
Todd Wirths will be bringing stacks of original California Dept. of Mines and Geology articles, maps, papers, and books to this month's meeting. Please come and take them home! There will be something for everyone.
---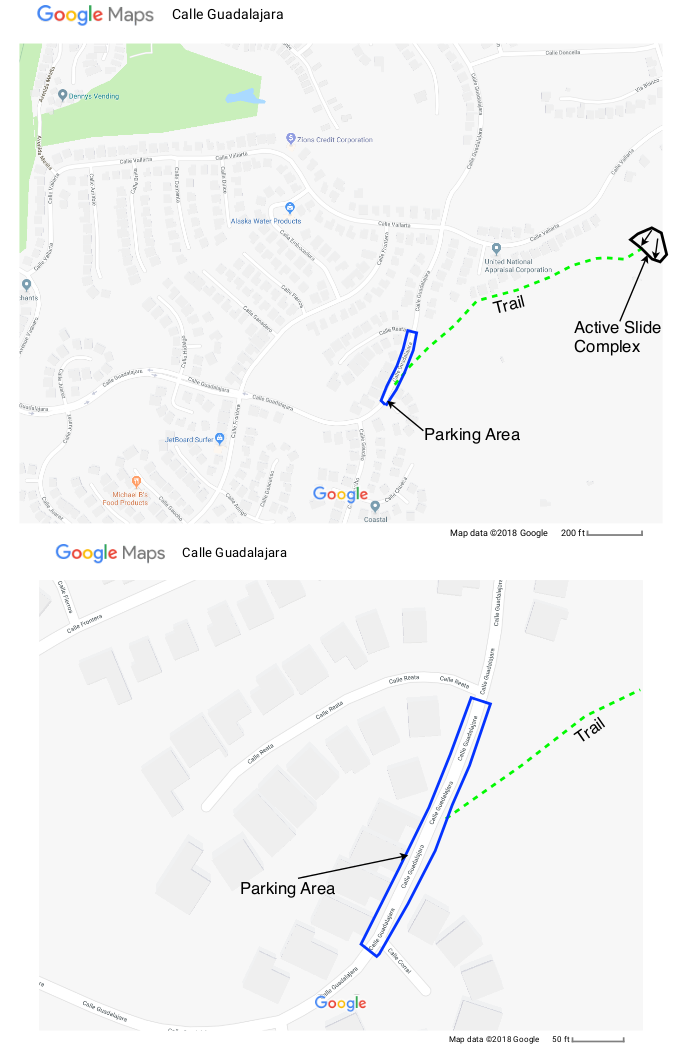 Calle Guadalajara Landslide - One Stop Wonder
Stephen Jacobs is leading our first OSW of 2019 to observe a large landslide in San Clemente. The OSW is scheduled for Saturday, January 5, 2019 from 10am to 12 noon.

Access to the landslide complex is via a trail leading from Calle Guadalajara. Parking near the trailhead is along the street on Calle Guadalajara between Calle Corral and Calle Reata in San Clemente. The proposed meeting time will be 10:00 am to 12:00 pm on Saturday, January 5, 2019.

An interesting landslide complex in an open area of San Clemente has progressed in size since about the mid 1990s. It represents a series of reactivated slides within an ancient landslide complex underlain by the Capistrano Formation according to the Geologic Map of the Dana Point Quadrangle mapped by Tan (1999). The latest and most prominent reactivated portion of the slide complex, which apparently formed in about 2011, is near the eastern part of the mapped area of the ancient landslide complex. This area has an approximately 15- to 20-foot high head scarp with ancient landslide material exposed in the scarp face.

Photo of landslide below...

Robert E. Reynolds Desert Symposium Student Research Award
We are excited to announce that a new award to honor Bob Reynolds has begun to accept donations. The award is to support student research in the desert. With this award we acknowledge Bob's decades of service to desert sciences, from directing large fossil excavations and exploring for minerals to mentoring numerous students and apprentices. In addition, Bob has been central to holding the annual Desert Symposium for over 30 years, in many cases singlehandedly soliciting contributors, organizing the meeting, and running the field trip. Bob's leadership and service are to be honored by promoting student research projects to encourage future research in the desert.

How to donate: We hope to create a large enough fund to provide sustainable support for this award. Please show your gratitude for Bob's work by donating to the Award. Donors will be identified in the annual volume published by the Desert Symposium.

Checks should be made out to: Desert Symposium Inc. Reynolds Award
And mailed to:
Bruce Bridenbecker, DSI Treasurer
64451 Brae Burn Ave., Desert Hot Springs, CA 92240

Questions?
Contact Bruce at: bbridenbecker@cmccd.edu
Or Dave Miller at: dmiller@usgs.gov

---
Application for Robert E. Reynolds Desert Symposium Student Research Award
Name:
School Affiliation:
Email:
Mailing Address:
Your major:
Total credit hours completed (separate undergraduate and graduate):
Title of Proposed Desert Symposium Research Project:
In approximately 500 words (not including citations), please describe the project:

Please describe briefly any research you may have done on this project:
How long do you think it will take for the project to be completed?
Give an estimated budget of what the project will cost, including such things as tools, items to do the research, transportation costs.


Please have your advisor or other faculty member write a recommendation that notes the validity of the project and his/her assessment of your ability to complete the project (and on schedule), including direct instruction during your desert research. This recommendation should be sent separately and by the

application deadline (January 15, 2019)

. The faculty member is not required to share this recommendation with you.

Email your application to:
David Lynch, Secretary DS Inc.: david@alumni.caltech.edu
You will be expected to present your project in Spring of 2020 or 2021 at the Desert Symposium as either a poster or talk and you are encouraged to submit a paper for publication in the Desert Symposium that year.

All publications stemming from this research should be sent as pdf versions to: David Lynch, Secretary DSI: david@alumni.caltech.edu

Criteria: Applicants must be either an undergraduate or graduate student matriculated at a recognized college or university at the time of application.
The topics can be broad, but must include some aspect of desert related research.

---
Software Info From Woody Higdon's September Talk
Hi All. For those of you who were not at the September meeting, Woody Higdon discussed his methods and programs he uses for taking amazingly detailed photos in stereo and with gps coordinate attachments. He showed us examples of his from the 2018 debris flows in Montecito. Below are links to free software where one can do more than get their toes wet in this type of work. Thanks again to Woody for the interesting talk!

The GIS software can be found at qgis.org The canon file display software is called Canon Map Utility and is available on the Canon Camera site. The image viewing program is called Stereo Photo Maker, and available at stereo.jpn.org/eng/.

WOODROW HIGDON
GEO-TECH IMAGERY INTL.
760-754-8423
woody@geo-tech-imagery.com

---
ONE-STOP WONDER CHALLENGE!
ONE OSW A MONTH IN 2018!
BE A PART OF SDAG HISTORY!

Have an idea for a one-day or half-day field trip?
Want to share your favorite aspect of San Diego geology?
Contact SDAG to schedule your One-Stop Wonder!
Your OSW may be chosen to be included in SDAG's One Stop Wonder Guidebook!

Contact Monte Murbach for scheduling! montemurbach@gmail.com
---
---
2018 SDAG Field Trip October 12th to 14th 2018

From our Vice President Ken Haase:
Hello SDAG!
I would like to extend my heartfelt thanks to everyone involved with the 2018 Field Trip. We had about 50 people come along and explore the geology of the Mojave Desert. This trip was almost 11 months in the making and it went off without a hitch (maybe a little rain). Thank you to my trip co-leaders Dr. Mario Caputo and Dr. Monte Marshall who's endless geologic knowledge surely made this trip infinitely more interesting than I could have on my own. Dr. Norrie Robbins who unfortunately couldn't make the trip (feel better soon!) but provided great insight into the human history of the Mojave. Thanks to Brian Papurello and crew for setting up the camp kitchen and keeping our bellies full. A big thanks to the SDAG officers, Chris Livesey, Adam Avakian and Heather Reynolds who have been such great help before and during the trip. As always, Diane and Monte Murbach provided the Hawaiian theme and margarita drinks each evening so thanks to them and SDGS board members. Geocon, my employer was gracious enough to provide the beer kegs which kept people more than happy. And thanks to everyone who came on the trip to make it so special! We are working on preparing the volume for the trip, hopefully to be published in 2019. It has been a humbling experience and I thank everyone for their kind words on their enjoyment of the trip. Can't wait to see what our 2019 VP Adam Avakian has in store for us next year.

Keep exploring and see you out there!

Ken Haase, 2018 SDAG Vice President (2019 President)
haase@geoconinc.com

Detailed itinerary.


---

Geology Education Rule Making Notice - Board of Professional Engineers, Land Surveyors and Geologists On November 30, 2018 the Board for Professional Engineers, Land Surveyors, and Geologists (Board) published the Geology Education Rulemaking Notice. The Board proposes to adopt Title 16, California Code of Regulations sections 3022, 3022.1, 3022.2, and amend Title 16, California Code of Regulations section 3031.

---

2019 SDAG Annual Field Trip - Owens Valley, CA Hi SDAG members. My name is Adam Avakian. I am the current secretary and future 2019 vice president for SDAG. I am very excited to be tasked with pulling together the annual field trip for 2019 and have some big shoes to fill after attending our latest trip out to the Mojave Desert (thanks to Ken and everyone involved for an amazing trip, and what an awesome group photo!). I am planning on taking us to Owens Valley / Eastern Sierras. I have a few stops in mind already but could definitely use some help on more stop suggestions and especially any enthusiastic speakers who have some knowledge and a love for the geology of Owens Valley. Here is a sneak peek at next year's trip:

Owens Valley Fault - 1872 Earthquake Fault Scarp - Lone Pine.
Alabama Hills - I was recommended a very interesting geological feature to look at here, also potential campground
Poverty Hills Geology - Owens Valley Fault Pressure Ridge and beautiful fault scarps preserved in basalt flows - Tinemaha Dam - Big Pine
Crowley Columns - Lake Crowley
Bishop Tuff - Ideas??
More ideas (basalt flows, glacial moraines etc.??)

Because it's a long drive and there is a lot to see I would like to try to start the trip Friday morning which would require participants to either get up extremely early Friday morning to drive or to camp out with the group Thursday night (my preferred option) or you can join the group midday on Friday. The bulk of the trip would be completed Friday and Saturday. I think I will plan for a half day of stops on Sunday and try to make them on the way back south towards home. Sunday would also be optional if anyone wants to get home earlier they can head out Sunday morning and skip the stops. Any help or advice would be much appreciated. Like I said, speakers are more than welcome. I'm planning to speak at Tinemaha Dam as my company has done work there but that's all I've got so far! Please send responses to adam.avakian@aecom.com.

Cheers! Adam



---

OSW - Encinitas Copper Mine - Write Up by Jennifer Morton Encinitas Copper Mine (a.k.a. Danes Lea Mine) N33.081651 W117.208037
Rancho Santa Fe Quadrangle
Directions:
Take I-5 to La Costa Avenue, head east. Turn left onto Rancho Santa Fe Road and right onto San Elijo Hills Road. Bear right at the roadway to a closed landfill and park on the side of the road. Head south on the easternmost dirt path, next to the landfill building. Arrive at the head of Copper Creek trail. Follow this trail until you reach the waterfall and remnants of the mine workings.

On September 1, 2018, SDAG visited the site of the Encinitas Copper Mine in the La Costa Preserve. The old mine was situated along what is now known as Copper Creek. According to County Report 3, Geology and Mineral Resources of San Diego County, California, published by the California Division of Mines and Geology in 1963, the mine was discovered in 1887 and was worked until 1917.

We were joined by Richard Bumann, local author/historian and a descendent of one of the founding families of Olivenhain. Mr. Bumann's uncle owned the copper mine from the 1920's through 1940's, and he shared some of the history of the mine and boyhood stories of exploring the mines and at one time lowering himself into one of the shafts! Mr. Bumann confirmed that the mine consisted of two shafts, one on either side of the canyon through which Copper Creek flows. The mine was worked sporadically until 1917, producing a low-grade extract than it would be worth! Piles of light-green rocks - the remaining mine tailings - give away the locations of each of the shafts, which have since been blasted shut for safety. The shaft on the east side of the canyon consisted of two horizontal tunnels terminating at a 140-foot deep vertical shaft, and the shaft on the west side was reported to be a vertical 400-foot shaft. The shafts tend to flood with groundwater, and Mr. Bumann's uncle spent many months pumping out water and restoring the shoring in 1925, but the mine was never again worked.

According to the 1963 County Report, the deposit is a northwest-trending zone copper-bearing mineralization, approximately one mile long and 10 to 50 feet wide. The 1939 California Journal of Mines and Geology, Quarterly Chapter of State Mineralogist's Report XXXV describes the vein as a yellowish and black gouge between walls of dark-colored porphyry, and notes that the ore is chalcopyrite associated with pyrite.

Steven Jacobs provided a great overview of the formation of porphyry copper deposits. These types of deposits typically form as the result of hydrothermal activity. In the case of the Encinitas Copper Mine, as the magma body of the Western Peninsular Ranges Batholith intruded the Santiago Peak volcanics hydrothermal fluids circulated through preexisting rocks, altering these rocks and depositing metals in the matrix or as a coating in fractures on the surface of surrounding rocks.

Monte Marshall was on hand to discuss the formation of the Santiago Peak Volcanics. These are subduction-related volcanoes, similar to the Andes or the Cascades. He noted that a visible outcrop near the mine consisted of a volcaniclastic deposit - one of three types of structures typically seen associated with the Santiago Peak Volcanics. Others include flows and feeder dikes with vertical foliation.

Thank you to everyone who made this a successful OSW!

---

Hint for first-time use of AmazonSmile: enter "San Diego Geological Society"
because the system will probably default to some other charity


---

CALL FOR PHOTOS!
That's right!...It's back, the SDAG monthly photo competition, featuring the very best of member photo submissions from around the County and beyond. The prize is one free drink at the next meeting, so if you're a winner, just see our resident bartender extraordinaire, Cari Gomes at the next meeting.....or myself (The Secretary) if it's not a SDAG libation supplied event.

Photo by Associated Press, The Washington Post

---

Volcanology Speaker Wanted! Wavelength Brewery (our last meeting venue) in Vista is looking for a geologist or volcanologist to give a voluntary talk on the recent volcanic activity going on in Hawaii. If anyone is interested in doing this please contact the brewery. Here is a link to their webpage: www.wavelengthbrewco.com

---

Free Back Issues of California Geology Free back issues of California Geology will be brought forth at this month's meeting. Several years are organized in binders, going back as early as 1967! Also, some paleontology texts, yours for the taking. See Todd Wirths at the meeting. Rock on!!

---

A link to more field trip pictures taken by Rob Hawk here: SDAG 2017 Field Trip Pictures



---

---

As part of the update for the San DiegoTijuana Earthquake Planning Scenario, Working Group No. 1's "Fault Map Subcommittee" completed the first publicly available bi-national active and potentially active fault map (http://sandiego.eeri.org/?page_id=265). This interactive GIS map includes the first publicly available active and potentially fault map locations from the City of San Diego. The map also integrated the faults south of the border for a bi-national cross border view. This map is an on-going project as our knowledge increases about local active and potentially active faults.

You can expand the map legend on the left side to select layers that can be turned on or off for the map view. You can also select from 1 of 12 base maps at the base map icon. You can click on the fault line in your map layer view to see the meta-data source. In addition, the City of San Diego Seismic Safety Study Geologic Hazards & Faults Maps are available in the layer titled "GeoHaz SD City." Please note that the City "Zone 12 Potentially Active" fault layers was not included in this data, therefore you will need to use the City Maps to find Zone 12.

The Fault Map link is available at: http://www.sandiegogeologists.org/Faults_map.html

I would like to thank Carolyn Glockhoff for her endless GIS work, Jim Quinn and the City for providing their data and time, Jerry Treiman with CGS for his time preparing the Surface Rupture and providing their new State fault data layer, and Luis Mendoza at CICESE for providing the faults south of the border. Please contact Diane Murbach (dianemurbach@gmail.com 619-865-4333), Chair for the SDTJ Earthquake Scenario Working Group #1 - Earth Science, if you have any questions, or see any errors on this new fault map.

Diane Murbach
(619) 865-4333
Engineering Geologist, C.E.G.
www.murbachgeotech.com

---


CALL FOR ARTICLES! SDAG invites members to submit articles on their current research or an interesting project they are working on for publication in the monthly newsletter. The article should be no more than 1 page in length. Photos are welcomed, too! Please submit articles to the SDAG secretary via email. The "Lindavista" Fm: Marine Terraces to Terrestrial Terraces and all Plants in Between by Eleanora (Norrie) Robbins, PhD (USGS-retired; SDSU-retired)

I have several specialties, one of which is iron bacteria. So anytime I see red rocks I wonder if iron bacteria had a role in their formation. Recently I've been fixated on the red sandstones at the top of the cliffs at Cabrillo, Torrey Pines, Crest Canyon, and along Highway 52. Tom Rockwell teaches that these red rocks were all Pleistocene marine terraces that have been uplifted to become terrestrial terraces in the past 1.5 or so million years. He and his predecessors have mapped seven old terraces and thirteen very old terraces. In general, the red sandstones on these terraces are called "Lindavista" Fm.

If you drive to Torrey Pines, you've seen the large vertical structures that start in the Lindavista and continue down into the Torrey Sandstone. I am fascinated with Pat Abbot's hypothesis that these large structures might have been mineralized tree roots. That got me thinking about the plant communities that would have colonized the marine sediments when they were uplifted into the terrestrial environment. The first plant community growing on uplifted marine sands had to have been coastal salt marsh; then I presume fresh water marsh, forested wetland, grassland, and now the rocks are colonized by coastal sage scrub and Torrey pines. Using this as my model, I am trying to unravel the post-depositional history of these rocks.

Lithified but never buried, the "Lindavista" is cemented with iron oxide. What was the source of reduced iron that could be oxidized? My working hypothesis is that the sediments contained iron monosulfides and pyrite that formed during the marine and coastal salt marsh phases. I am thinking that with uplift, the iron sulfides were oxidized by iron bacteria to ferrihydrite. If the sediments then went through a salinity phase (i.e., sea level rise), ferrihydrite would dehydrate to hematite; but using reflected light, I rarely see hematite in any of the rocks.

Another fascinating characteristic of the "Lindavista" are Mn-rich soil concretions and nodules. In Virginia, I worked in a wetland that was actively forming these; there, iron bacteria were active in the subsurface where the concretions formed. In places, the "Lindavista" concretions form vast accumulations at the surface, where we call them rollers because they are easy to slip on (ask Joe Corones). I presume that they are residual lag deposits from sediments and rocks that have eroded away.

Thinking as a paleoecologist, I've started tromping around our coastal salt marshes: Tijuana, Sweetwater, South Bay, Los Penasquitos, and all the coastal lagoons. In these, I'm searching for sedimentary structures, distinctive shells, and sediments with iron sulfides.

There's more to the story, such as the abundance of magnetite in the rocks. The magnetite is perfectly black under the microscope, not rimmed red. I don't understand its provenance and its role. And where are the shell fossils from the marine history? The only shells that have been collected are from the base of the Lindavista, only inland, where it sits on calcareous rocks.

I've been taking the students I mentor out in the field with me, seeing if I can interest some of them in these rocks. But they need a funded professor to move forward with XRD and thin sections; I'm retired. I do welcome anyone who wants to tromp with me on the red sandstones or in the stinky marshes.


---


Absolution by the Sea - Now Open For Business!!
Long time SDAG member and past president, Cari Gomes, has assisted in opening a new brewery-restaurant called Absolution by the Sea, from Absolution Brewing Company. The restaurant is located at 7536 Fay Avenue, La Jolla, CA 92037. Phone 619-202-4152. Come enjoy great craft beer and food with your fellow geologists!

---

Looking For A Sample of Ardath Shale I am curating an exhibit for the La Jolla Historical Society about Canyons. We would like to include a specific exhibit - a chunk of Ardath Shale. It ties in to so many of our other items: how La Jolla was formed, ecology and native plants, as well as the issue of landslides. For example, the Soledad Mountain Road slope failure of a few years ago was related to the geology: heavy soils over Ardath Shale...according to the reports I've been reading. I'd like to show our visitors what exactly Ardath Shale looks like.

Does your organization have a sample of this type of rock? If not, can you suggest where I might find a sample large enough to put on display?

Regards,
Susan Krzywicki
susankrzywicki@mac.com
www.susankrzywicki.com
(619) 318-4590
California Native Plant Society, Ocean Friendly Gardens

---


Yosemite Conservancy Outdoor Adventures featuring custom adventures.


---


Got too many rocks? Are you (or specifically, your spouse...) interested in giving them a good home *away* from your house and garden? Mesa College is looking to collect some rock samples for an inaugural Earth History course. We are specifically looking for sedimentary rocks that include examples of different energy environments (varying grain sizes and shapes) and structures (ripples, cross bedding, planar bedding, graded bedding, etc.). We are also looking to beef up our fossil collection and are looking for all the major phyla: Echinoderms, brachiopods, mollusks (bivalves, cephalopods, gastropods), arthropods (trilobites and more!), corals (Cnidaria), Porifera, Bryozoa, vertebrates (Chordata), etc. Looking for both actual standalone specimens or in the rock still (showing different environments of deposition). We are looking for fossil preservation examples, and also for good trace fossil evidence. Got any sediment grain samples from cool locales? We'll take them! If you have anything else you think provides a good 'story' in the rock, we are willing to check it out! We are collecting ASAP to assess how much needs to be ordered for the fall course. Please contact Jill Krezoski at JillKski@hotmail.com or Don Barrie at dbarrie@sdccd.edu with queries or samples.

---


ROCK DONATIONS NEEDED: Amy Romano, one of our former student members, is looking for rock donations. Amy is currently attending Humboldt State University and majoring in Geology. She is very involved with Humboldt's Geology Club, and every year the club holds a rock auction to support their activities. If you have any rocks to donate, please contact Amy at ajr612@humboldt.edu.

---

Annual Scholarship Awards by the San Diego Association of Geologists, a program of the San Diego Geological Society, Inc. A primary function of the San Diego Association of Geologists (SDAG) is to support academic opportunities in geology and related sciences. By-laws of the San Diego Geological Society (SDGS) specify the support of academic opportunity ranging from elementary through graduate levels. The SDAG scholarship program has supported academic research in higher education by awarding scholarships annually to students from two-year and four-year undergraduate and master's level programs. Awards are for outstanding research in geology and related sciences. Nominations are solicited from individual faculty and from geology or related science departments at accredited academic institutions. Evaluation of the relative merit of each nominee is based on an abstract describing the objectives and results of the research being conducted by the student and on the letter of recommendation by the student's mentor or nominating committee.

The annual timeline is as follows:

Request for nominations occurs in September.
Nomination letters and research abstracts are received by the Scholarship Coordinator in mid to late October.
Awardees and their nominators are invited to attend the December SDAG dinner meeting. Scholarship awards are distributed to the student during the December meeting.
Students accepting awards are required to give a presentation of their research results usually at a spring dinner meeting of SDAG.

For further information contact SDGS Board at http://www.sandiegogeologicalsociety.org/contact.html through the Contact Us option

---

SDAG RESEARCH TOOL A comprehensive listing of all papers published by SDAG, whether as annual field trip guidebooks or special publications, is available on our website. Entries are sorted by primary author, or chronologically by date of publication, from our first guidebook in 1972, up the San Luis Rey River in 2013, from Coast to Cactus in 2014, and finally over the edge to the Coyote Mountains in 2015. These can be accessed or downloaded as .pdf files. They are fully searchable in Adobe Reader or Acrobat, so if you are researching a topic, "tsunami" for example, you can search for that keyword. This listing will be updated as new books are published. Thanks to Greg Peterson and Hargis + Associates, Inc., for making this possible. See the links below:
SDAG publications sorted by senior author.
SDAG publications sorted chronologically.

---

Request for Sponsors: 2019 SDAG/SDGS and Publication SPONSORS On behalf of the San Diego Geological Society, Inc. (SDGS), a public benefit 501(c)3 nonprofit educational corporation, we would like to request tax deductible Donations at our San Diego Association of Geologists (SDAG). The list of paid Sponsors and the forms to become a Sponsor are located on the SDAG web site at: http://www.sandiegogeologists.org/Sponsors.html.

Your donation will further the SDGS mission to promote geology and related fields in the greater San Diego region, operating through the San Diego Association of Geologists (SDAG), a committee of SDGS. To achieve our primary educational objective, we organize frequent field trips and maintain a program of monthly meetings featuring speakers on current geological topics. We also publish field trip guidebooks and other publications related to geology and natural history. We encourage scholarship and research by awarding scholarships from the elementary through graduate levels. With your $100 "EMERALD" donation, your name/business will be listed as a sponsor on the SDAG web site (http://www.sandiegogeologists.org/) and in the monthly SDAG meeting newsletters. With your $500 "RUBY" or $1,000 or more "DIAMOND" level donation, your business card will also be included on the SDAG web site and in the monthly SDAG meeting newsletters. In addition, as a "$1,000 or more DIAMOND" level donation you will be presented with a thank you plaque.

Should you have any questions regarding a Sponsorship, please contact our non-profit SDGS Secretary (Diane Murbach) at 619-865-4333.

---

SDGS/SDAG As many of you are aware, the San Diego Geological Society (SDGS) was formed in early 2010 as an official non-profit 501(c)3 corporation, and SDAG is now an organization under this corporation. The reasons for doing this were many and they are spelled out in an informational sheet, the Business Plan of SDGS. The officers of SDGS should be very familiar to you, as they are all past presidents of SDAG. For those of you that would like to read more about SDGS and what it means to SDAG, check out the informational page on the website. Also check out the website www.sandiegogeologicalsociety.org.


---


Annual Meeting 22-25 September 2019
Abstracts Deadline: 25 June 2019


---

VINTAGE SDAG GUIDEBOOKS NOW AVAILABLE FOR FREE DOWNLOAD! If you want to complete your collection, or just see what SDAG was up to in the 1970s, check out our website's publication page, and scroll all the way down: http://www.sandiegogeologists.org/Publications.html In addition to our very first publication in 1972, a field trip to Otay Mesa, you'll find our 1973 Geology and Hazards of San Diego volume, the first of two guidebooks to the Coronado Islands, in 1978, and our 1987 field guide to the gold mines of Julian. Happy reading!

---


WAREHOUSE AND OFFICE SPACE AVAILABLE in El Cajon
Short-term rental or long-term lease. Warehouse from 3125 to 6250 sq. ft. Two remodeled offices. Mix and match to meet your needs. Ideal for geotech operations; best possible rates, and we are geology friendly. Contact Lowell Lindsay at Sunbelt Publications 619-258-4911 x110.

---


SDAG Wear - Monte (Murbach) has a variety of shirts, hats, visors and even a nice vest with the SDAG logo. A small selection is available for purchase at the meetings; all SDAG wear can be ordered from Monte.

---


DO YOU HAVE AN ANNOUNCEMENT?? Do you have an event, job opening, field trip or other announcement you would like to share with our members?? Just call or email our SDAG Secretary.

---

Wednesday seminars, 1 - 2 pm, SDSU in the Chemistry-Geology Building, room CSL-422. Check http://www.geology.sdsu.edu/seminars/ for details.
Department of Geological Sciences
San Diego State University
San Diego, CA 92182-1020
FAX (619) 594-4372 VOICE (619) 594-6394
*****Parking near campus is limited. There are two lots of meters on the SE side of campus off College, for example and it would be about a 5 minute walk from there. The first lot is meters, and the deeper lot is less expensive ticket machine. *****
The Gordon Gastil Endowed Scholarship Fund continues to seek donations of any amount. Gifts of $ 500.00 or more will be recognized on a plaque to be placed in the remodeled Geology Building. Donations can be sent through SDAG, or contact Pia or Marie, Department of Geological Sciences, SDSU, at (619) 594-5586.

---

Jennifer Luscombe (current student M.S. student at SDSU) and the SDSU-AAPG student chapter officers are beginning the 2016/2017 academic year. Their intention is to support student interest in petroleum and geology related fields. The AAPG student officers are currently organizing an event to stockpile the students with geology supplies and funds to attend the AAPG event in Las Vegas and GSA event in Denver. Details of the event will be forthcoming.

---

---

---

---

---

Meetings are generally held the 4th Thursday of the month at 11:30AM at the Grand at Willow (check their website http://www.labgs.org/ for their newsletter, for more details, and to make a reservation). Reservations Are Essential.


---

---

The SCGS usually meets on the first Monday of every month, in Orange County. For more SCGS information, visit their website at: http://www.southcoastgeo.org.



---

Check the West Coast Petroleum Technology Transfer Council website http://www.pttc.org/west_coast/west_coast_home.htm/ for workshop date and location.

---


Our website manager, Carolyn Glockhoff, can create a link from any Corporate Sponsor's listing on the SDAG website to its company website, if one exists. Also, please send the URLs of your favorite geology sites to carolyn@caro-lion.com for listing on the Geologic Links page. These could be data resources, schools, useful government contacts, geologic software, contractors, laboratories, your own company's website, or anything you think would be useful to your colleagues.

---


DO YOU HAVE AN ANNOUNCEMENT?? Do you have an event, job opening, field trip or other announcement you would like to share with our members?? Just call or email Heather Reynolds - 2019 SDAG Secretary. Any news regarding upcoming events that may be of interest to the Association or news of your business can be submitted.