PRESIDENT'S CORNER:
Greetings SDAG members!

March was a busy meeting, setting the record for the longest SDAG meeting...at least to my knowledge! My thanks to all of the students who presented, and in particular, congratulations to Luke Weidman who has since successfully defended his Master's thesis and become a full-time employee of Geocon. My thanks also to Laurie Racca from the State Board who provided us with the late night update on professional licensing requirements. The turnout for the March meeting was once again excellent with almost 70 people in attendance. One thing I would like to remind people of is to please sign in with our treasurer, Adam Avakian, when you arrive and grab a name tag as well. For this meeting, we had seven people who slipped in unnoticed by us, but not by the restaurant owner. As we assume that everyone who attends will pay, it makes it very hard to budget meetings when we have to account for the few that don't.

Moving on, we are back at Marina Village this month with John Minch, longtime member/supporter of SDAG and pivotal contributor to last year's field trip, who is going to present on the 1995 Kobe earthquake and its effects on high rise buildings and infrastructure. The Walawender Tavern with be in full swing, kindly staffed by Cari Gomes (SDAG President, 2013), so please come and join us once again for good food, beer and wine, and what will most certainly be, another excellent presentation.

In other news, if you haven't heard of AB-199, please take the time to do a little research on it. It is California's latest, altruistic effort to expand the definition and scope of a prevailing wage project. As with all California Bills, the language is confusing and suitably ambiguous, so as to divide public opinion and confuse the general populous. However, there are certainly those who feel it will have a negative effect on the California housing market and private development, and therefore, a potentially negative effect on those of us with livelihoods related to construction of residential homes...certainly food for thought.

As always, please feel free to contact me at adams@geoconinc.com if you have questions, suggestions etc. regarding all matters SDAG related. Please don't forget to check out the details on the latest upcoming OSW to the San Ysidro landslide complex, led by Mike Hart and Sue Tanges.

I look forward to seeing everyone again on the 19th at Marina Village!

Regards,
- Rupert Adams PG, CEG | Sr. Project Geologist
2017 SDAG President
OSW - Tuesday April 25th at 1:00 pm
Matt Love and Rupert Adams with Geocon, Inc. have set up a One Stop Wonder for a Stone Column job in the Midway Area. A great chance to see some Geotechnical Engineering at work!

*PLEASE NOTE* This stop will require FULL PPE (hard hats, safety glasses, safety vests, and safety boots). I'm sorry if you do not have these but since it is an active construction site, we must follow the rules set by the contractor onsite.

The site is located at the corner of Kemper Street and Kenyon Street south of Midway Drive in the Midway District. There is no onsite parking so you will need to find street parking.
---
Building Your Career: The California Professional Geologist License Presented by Laurie Racca
Wednesday April 12, 2017 1 pm
SDSU Campus: Room CSL-422
Laurie Racca, PG, is the Senior Registrar for Geology and Geophysics at BPSELG. Her 25+ years of experience includes working in private environmental and geotech- nical consulting, providing regulatory agency oversight of large military and civilian environmental cleanups for the Department of Toxic Substances Control, and investi- gating fraud, waste and abuse as part of the Office of Enforcement at the State Water Resources Control Board
---
31st Annual Desert Symposium and Field Trip Eastern California Shear Zone (ECSZ) Changes in Altitude
Symposium: April 14 - 15, 2017
Field Trip: April 16 - 17, 2017 (This year the field trip will return to Desert Studies Center each night)
Share your desert research through an oral presentation or poster. The Desert Symposisium is open to research presentations related to any area of desert studies. Students are especially encouraged to present and compete for the Adams Best Student Presentation Awards.

For expedited updates contact desertstudiescenter@fullerton.edu to join the email distribution list
---
ONE STOP WONDER - The San Ysidro Landslide and La Nacion Fault
Led by: Mike Hart & Sue Tanges
Saturday April 22, 2017

The meeting point will be at the east end of Beyer Blvd in San Ysidro. Directions:
* Take San Ysidro Blvd offramp on 805 South.
* At the stoplight turn left onto San Ysidro Blvd and then turn left on Central Street just past the bridge over 805.
* Turn Left onto E. Beyer Blvd and go north about 1/2 mile to Beyer Blvd. Turn right and go to the end of the street.
* Park on both sides of the street.

What Will We See?
1. A great exposure of the La Nacion Fault where it juxtaposes the Otay and San Diego Formations.
2. The primary slip surface at the left flank of the approximately 3/4 mile wide San Ysidro landslide where it lies in contact with genty dipping beds of the Otay Formation.
3. Lanslide breccia and shear zones exposed in a roadcut.
4. Panoramic views of the Moody Canyon landslide complex and classic landslide geomorphology including grabens, back-tilted mesa surfaces and ponded drainage.
The trip will take approximately 2 hours and will involved hiking up a moderately steep dirt road so bring water, hat, etc.
This a dog friendly area so bring them if you like.

Contact Mike Hart at mwhart40@gmail.com if you have any questions.
SEE PICTURES IN NEWSLETTER FOR PREVIEW OF GEOLOGY.
---
In the News
Colombian flood/mudslide
As a result of heavy rainfall, the Mocoa River overtopped its banks, sending water, trees, and rocks through the city of Mocoa. So far, there are 254 confirmed fatalities, with many more missing.
---
As part of the update for the San Diego-Tijuana Earthquake Planning Scenario, Working Group No. 1's "Fault Map Subcommittee" has completed the first publicly available bi-national active and potentially active fault map. This interactive GIS map includes the first publicly available active and potentially active fault map locations from the City of San Diego. The City of San Diego fault locations and activity of faults are based chiefly on interpretation of information contained in geologic reports by private consultants. The City of San Diego identifies active faults as Holocene (<= 11,000yr) and potentially active as Quaternary (up to 1.6my). City of San Diego fault investigations are ongoing that may require future revision of this map. This map is not a substitute for a site specific fault investigation. The map also includes an updated fault map layer from the State CGS. CGS suggests users defer to the City of San Diego fault data, where marked, for increased accuracy. The map also integrated the faults south of the border for a bi-national cross border view. You can expand the map legend on the left side to see the fault ages and sources for each layer that can be turned on or off for the map view. You can select from 1 of 12 base maps. You can click on the fault line on the map to see the meta-data source. This map includes the yellow dashed SURFACE FAULT RUPTURE location layer that will be used for the infrastructure, social, and economic impacts and emergency response for the update to the Earthquake Scenario. In addition, active and potentially active fault investigation locations from private companies are planned to be added to this map as a resource. This map is an on-going project and resource as our knowledge increases about local active and potentially active faults.

The link is available at: http://www.sandiegogeologists.org/Faults_map.html

I would like to thank Carolyn Glockhoff for her endless GIS work, Jim Quinn and the City for providing their data and time, Jerry Treiman with CGS for his time preparing the Surface Rupture and providing their new State fault data layer, and Luis Mendoza at CICESE for providing the faults south of the border. Please contact Diane Murbach (dianemurbach@gmail.com), Chair for the SD-TJ Earthquake Scenario Working Group #1 - Earth Science, if you have any questions, or see any errors on this new fault map.

Diane Murbach
(619) 865-4333
Engineering Geologist, C.E.G.
www.murbachgeotech.com
---
---
Call for Papers, Speakers, and Spectators
SDAG Fall 2017 Fieldtrip
October 14th and 15th 2017. Optional Night on the 13th.

San Diego is a county with abundant points of interest. There is active faulting, landslides, great weather, and mountains that over look majestic landscapes. Julian, California encompasses all of these traits and more! The 2017 fieldtrip will focus on points of interest in the region, including gold mining and faulting; however the trip is in the early stages of planning and is subject to change in direction and core focus. Thus, submit your abstracts, articles, and ideas early!
---
Greenland from 39,000 feet! Thank you First Officer J, Cameron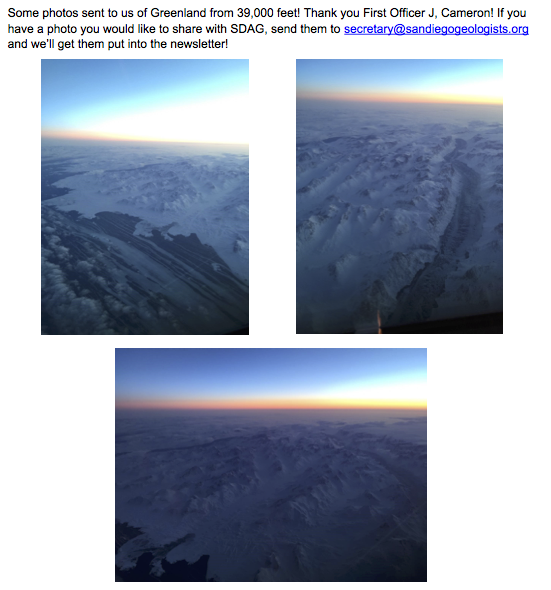 CALL FOR PHOTOS!
That's right!...It's back, the SDAG monthly photo competition, featuring the very best of member photo submissions from around the County and beyond. The prize is one free drink at the next meeting, so if you're a winner, just see our resident bartender extraordinaire, Cari Gomes at the next meeting.....or myself (The Secretary) if it's not a SDAG libation supplied event.
---

CALL FOR ARTICLES! SDAG invites members to submit articles on their current research or an interesting project they are working on for publication in the monthly newsletter. The article should be no more than 1 page in length. Photos are welcomed, too! Please submit articles to the SDAG secretary via email.
---

Yosemite Conservancy Outdoor Adventures featuring custom adventures.


---

STATE REGISTRATION EXAM HELP One of our new members, Sergio Postigo who has recently moved to the San Diego area, will be taking his registration exams later this year for the PG. Sergio is looking to meet up with anyone who may be interested in forming a study group for the exam and/or hear from anyone who has recently taken the exam and can provide some useful insights. He can be contacted at Email sergiopostigo@yahoo.com

---

Got too many rocks? Are you (or specifically, your spouse...) interested in giving them a good home *away* from your house and garden? Mesa College is looking to collect some rock samples for an inaugural Earth History course. We are specifically looking for sedimentary rocks that include examples of different energy environments (varying grain sizes and shapes) and structures (ripples, cross bedding, planar bedding, graded bedding, etc.). We are also looking to beef up our fossil collection and are looking for all the major phyla: Echinoderms, brachiopods, mollusks (bivalves, cephalopods, gastropods), arthropods (trilobites and more!), corals (Cnidaria), Porifera, Bryozoa, vertebrates (Chordata), etc. Looking for both actual standalone specimens or in the rock still (showing different environments of deposition). We are looking for fossil preservation examples, and also for good trace fossil evidence. Got any sediment grain samples from cool locales? We'll take them! If you have anything else you think provides a good 'story' in the rock, we are willing to check it out! We are collecting ASAP to assess how much needs to be ordered for the fall course. Please contact Jill Krezoski at JillKski@hotmail.com or Don Barrie at dbarrie@sdccd.edu with queries or samples.
---
Earthquake Engineering Research Institute (EERI)
The Earthquake Engineering Research Institute (EERI) San Diego Chapter, the University of California San Diego (UCSD) Extension and the GeoInstitute San Diego Chapter are organizing the 2nd Workshop on Geotechnical Earthquake Engineering with the topic "Dealing with the Consequences of Liquefaction" on Wednesday-Thursday, March 29-30, 2017 in UCSD campus, San Diego, California. As you may remember, the first workshop in 2014 was a success with almost 300 attendees (https://sandiego.eeri.org/?p=203).

The second workshop will honor the lifetime achievements and contributions of Prof. Kenji Ishihara to the field of geotechnical earthquake engineering. The afternoon session of the second day of the workshop (Thursday, March 30, 2017) will be entirely devoted to honor Prof. Ishihara and the session will be hosted by Prof. I.M. Idriss. We will have distinguished speakers from US, Japan, New Zealand, Europe and South America sharing with us their experiences with liquefaction mitigation, recent major earthquakes and highlighting the contributions of Prof. Kenji Ishihara. We are in the process on preparing the final program and the website for the workshop. A one-day short course before the workshop on Tuesday, March 28 is also in the plans.

We would much appreciate your participation in this workshop. Please mark your calendars and save the dates.

Hope you will be able to join us and be part of this big event.

If you have any question, feedback or wish to sponsor this event, please feel free to contact the Chair of the Organizing Committee, Dr. Jorge Meneses, at jmenesesl@gmail.com Thanks and looking forward to seeing all of you in beautiful San Diego,

Jorge
President, EERI San Diego Chapter

Kenji Ishihara lifetime achievement award to be presented at EERI meeting March 30, 2017
Prof. Kenji Ishihara was born in Chiba, Japan in 1934. He started his studies in Civil Engineering at the University of Tokyo, obtaining BS-degree in 1957, MS-degree in 1959, and Ph.D-degree in 1963. During one-year period from 1966 to 1967, he was a Visiting Research Associate at the University of Illinois in Urbana, U.S.A. under the guidance of late Professor R. B. Peck. He has been affiliated with the University of Tokyo since then, taking the position of professorship in geotechnical engineering since 1977. On his retirement from the University of Tokyo in 1995 he took up the position of Professor of Geotechnical Engineering at the Tokyo University of Science and then at Chuo University in 2001.

He served for ISSMFE as secretary of the Japanese National Committee for the period of 7 years between 1970 and 1976 during which time he attended the Executive Committee meeting of ISSMFE in Sydney, 1971 as a voting member representing the Japanese National Society. Since then, he often represented Japan in several Executive Committee Meetings of ISSMFE and those of Asian region. He acted as Vice-President of Asian region of ISSMFE during the period of 1989-1993.

His major research interest covers problems in soil dynamics associated with earthquakes, such as liquefaction of sandy deposits, and seismic stability of slopes and earth structures. He wrote about 250 papers on these subjects.

He has served on various occasions as consultant or adviser to UNESCO projects (Balkan region, India) and UNDP project (Chile, India, Iran). He has participated in the geotechnical investigations of earthquakes worldwide such as those in Romania (1977), Yugoslavia (1979), Chile (1985), Mexico (1985), Ecuador (1986), Soviet Armenia (1988), Soviet Tajik (1989), Philippines (1991) and Iran (1991). He is the author of the book "Fundamentals of Soil Dynamics" (1974) and the textbook "Soil Mechanics" (1988) both in Japanese. He recently published from Oxford Press an English book entitled "Soil Behaviour in Earthquake Geotechnics".

He has received the honor by being assigned on many occasions to deliver lectures worldwide including the theme lecture in the 11th ICSMFE in San Francisco and the 33rd Rankine Lecture of the British Geotechnical Society in 1993. He acted as chairman of the Technical Committee TC4 on Earthquake Geotechnical Engineering in ISSMFE for the two tenures of office from 1985 to 1993. His incessant endeavor in TC4 has led to the periodical holding of the International Conference on Earthquake Geotechnical Engineering of which the first in a series was held in Tokyo in 1995 and the second in Lisbon in 1999. He has also received honor by being awarded the H. B. Seed Gold Medal in 1998 from the American Society of Civil Engineers. For his significant contribution, title of Honorary Doctorate was given to him from Technical University of Bucharest, Romania in 1995 and from Istanbul Technical University, Turkey in 1999. In 2000, he was honored by being bestowed the most prestigious Japan Academy Prize. In 2010, he was elected to Foreign Associate of the United States Academy of Engineering.

In commemoration of his long-time contribution to the profession, the International Conference on Earthquake Geotechnical Engineering held in Istanbul by the efforts of Professors A. Ansal and M. Sakr, published two volumes of selected papers containing major publications by Prof. Kenji Ishihara.
--
Jorge F. Meneses, PhD, PE, GE, D.GE, F.ASCE
---

ROCK DONATIONS NEEDED: Amy Romano, one of our former student members, is looking for rock donations. Amy is currently attending Humboldt State University and majoring in Geology. She is very involved with Humboldt's Geology Club, and every year the club holds a rock auction to support their activities. If you have any rocks to donate, please contact Amy at ajr612@humboldt.edu.
---
Annual Scholarship Awards by the San Diego Association of Geologists, a program of the San Diego Geological Society, Inc.
A primary function of the San Diego Association of Geologists (SDAG) is to support academic opportunities in geology and related sciences. By-laws of the San Diego Geological Society (SDGS) specify the support of academic opportunity ranging from elementary through graduate levels. The SDAG scholarship program has supported academic research in higher education by awarding scholarships annually to students from two-year and four-year undergraduate and master's level programs. Awards are for outstanding research in geology and related sciences. Nominations are solicited from individual faculty and from geology or related science departments at accredited academic institutions. Evaluation of the relative merit of each nominee is based on an abstract describing the objectives and results of the research being conducted by the student and on the letter of recommendation by the student's mentor or nominating committee.

The annual timeline is as follows:
Request for nominations occurs in September.
Nomination letters and research abstracts are received by the Scholarship Coordinator in mid to late October.
Awardees and their nominators are invited to attend the December SDAG dinner meeting. Scholarship awards are distributed to the student during the December meeting.
Students accepting awards are required to give a presentation of their research results usually at a spring dinner meeting of SDAG.
For further information contact SDGS Board at http://www.sandiegogeologicalsociety.org/contact.html through the Contact Us option
---
SDAG RESEARCH TOOL
A comprehensive listing of all papers published by SDAG, whether as annual field trip guidebooks or special publications, is available on our website. Entries are sorted by primary author, or chronologically by date of publication, from our first guidebook in 1972 (40 years ago!) to Palms to Pines and San Luis Rey volumes recently printed. These can be accessed or downloaded as .pdf files. They are fully searchable in Adobe Reader or Acrobat, so if you are researching a topic, "tsunami" for example, you can search for that keyword. This listing will be updated as new books are published. Thanks to Greg Peterson and Hargis + Associates, Inc., for making this possible. See the links below:
SDAG publications sorted by senior author.
SDAG publications sorted chronologically.
---
Request for Sponsors: 2017 SDAG/SDGS and Publication SPONSORS
On behalf of the San Diego Geological Society, Inc. (SDGS), a public benefit 501(c)3 nonprofit educational corporation, we would like to request tax deductible Donations at our San Diego Association of Geologists (SDAG)

The list of paid Sponsors and the forms to become a Sponsor are located on the SDAG web site at: http://www.sandiegogeologists.org/Sponsors.html.
Your donation will further the SDGS mission to promote geology and related fields in the greater San Diego region, operating through the San Diego Association of Geologists (SDAG), a committee of SDGS. To achieve our primary educational objective, we organize frequent field trips and maintain a program of monthly meetings featuring speakers on current geological topics. We also publish field trip guidebooks and other publications related to geology and natural history. We encourage scholarship and research by awarding scholarships from the elementary through graduate levels. With your $100 "EMERALD" donation, your name/business will be listed as a sponsor on the SDAG web site (http://www.sandiegogeologists.org/) and in the monthly SDAG meeting newsletters. With your $500 "RUBY" or $1,000 or more "DIAMOND" level donation, your business card will also be included on the SDAG web site and in the monthly SDAG meeting newsletters. In addition, as a "$1,000 or more DIAMOND" level donation you will be presented with a thank you plaque. Should you have any questions regarding a Sponsorship, please contact our non-profit SDGS Secretary (Diane Murbach) at 619-865-4333.
---
SDGS/SDAG
As many of you are aware, the San Diego Geological Society (SDGS) was formed in early 2010 as an official non-profit 501(c)3 corporation, and SDAG is now an organization under this corporation. The reasons for doing this were many and they are spelled out in an informational sheet, the Business Plan of SDGS. The officers of SDGS should be very familiar to you, as they are all past presidents of SDAG. For those of you that would like to read more about SDGS and what it means to SDAG, check out the informational page on the website. Also check out the website www.sandiegogeologicalsociety.org.

---
VINTAGE SDAG GUIDEBOOKS NOW AVAILABLE FOR FREE DOWNLOAD!
If you want to complete your collection, or just see what SDAG was up to in the 1970s, check out our website's publication page, and scroll all the way down: http://www.sandiegogeologists.org/Publications.html In addition to our very first publication in 1972, a field trip to Otay Mesa, you'll find our 1973 Geology and Hazards of San Diego volume, the first of two guidebooks to the Coronado Islands, in 1978, and our 1987 field guide to the gold mines of Julian. Happy reading!
---

WAREHOUSE AND OFFICE SPACE AVAILABLE in El Cajon
Short-term rental or long-term lease. Warehouse from 3125 to 6250 sq. ft. Two remodeled offices. Mix and match to meet your needs. Ideal for geotech operations; best possible rates, and we are geology friendly. Contact Lowell Lindsay at Sunbelt Publications 619-258-4911 x110.
---

GSA Annual Meeting 22-25 October 2017 in Seattle, Washington
---

SDAG Wear - Monte (Murbach) has a variety of shirts, hats, visors and even a nice vest with the SDAG logo. A small selection is available for purchase at the meetings; all SDAG wear can be ordered from Monte.
---

DO YOU HAVE AN ANNOUNCEMENT?? Do you have an event, job opening, field trip or other announcement you would like to share with our members?? Just call or email our SDAG Secretary.
---
Wednesday seminars, 1 - 2 pm, SDSU in the Chemistry-Geology Building, room CSL-422. Check http://www.geology.sdsu.edu/seminars/ for details.
Department of Geological Sciences
San Diego State University
San Diego, CA 92182-1020
FAX (619) 594-4372 VOICE (619) 594-6394
*****Parking near campus is limited. There are two lots of meters on the SE side of campus off College, for example and it would be about a 5 minute walk from there. The first lot is meters, and the deeper lot is less expensive ticket machine. *****
The Gordon Gastil Endowed Scholarship Fund continues to seek donations of any amount. Gifts of $ 500.00 or more will be recognized on a plaque to be placed in the remodeled Geology Building. Donations can be sent through SDAG, or contact Pia or Marie, Department of Geological Sciences, SDSU, at (619) 594-5586.
---
Jennifer Luscombe (current student M.S. student at SDSU) and the SDSU-AAPG student chapter officers are beginning the 2016/2017 academic year. Their intention is to support student interest in petroleum and geology related fields. The AAPG student officers are currently organizing an event to stockpile the students with geology supplies and funds to attend the AAPG event in Las Vegas and GSA event in Denver. Details of the event will be forthcoming.
---
---
---
---
---
Meetings are generally held the 4th Thursday of the month at 11:30AM at the Grand at Willow (check their website http://www.labgs.org/ for their newsletter, for more details, and to make a reservation). Reservations Are Essential.

---
---
The SCGS usually meets on the first Monday of every month, in Orange County. For more SCGS information, visit their website at: http://www.southcoastgeo.org.


---
Check the West Coast Petroleum Technology Transfer Council website http://www.pttc.org/west_coast/west_coast_home.htm/ for workshop date and location.
---

Our website manager, Carolyn Glockhoff, can create a link from any Corporate Sponsor's listing on the SDAG website to its company website, if one exists. Also, please send the URLs of your favorite geology sites to carolyn@caro-lion.com for listing on the Geologic Links page. These could be data resources, schools, useful government contacts, geologic software, contractors, laboratories, your own company's website, or anything you think would be useful to your colleagues.
---

DO YOU HAVE AN ANNOUNCEMENT?? Do you have an event, job opening, field trip or other announcement you would like to share with our members?? Just call or email Chris Livesay 2016 SDAG Secretary. Any news regarding upcoming events that may be of interest to the Association or news of your business can be submitted.