SECRETARY'S CORNER:
Greetings SDAG,

We've had a another great summer at SDAG. A great talk by Jorge Ledesma, a successful joint meeting with SCGS and hopefully the start of a new series of group meetings with the Society of American Military Engineers. I hope everyone has had a great summer and hope to see more students at the upcoming meetings. This month on September 20th we have Drake Singleton and Dr. Tom Rockwell speaking about Late-Holocene Earthquakes on the Rose Canyon Fault at Old Town. Geocon will be hosting the event again in our upstairs lounge with Taco and Enchilada Catering. It will be a great talk so be sure to get your sign ups in early!

The Field Trip is fast approaching! The signup forms are included in the newsletter. Chris Livesey has provided some updates for a great trip to Julian. We would love everyone to attend so get those signups sent over to him. The deadline for signups to avoid late fees is September 20th. The field trip is on October 14th and 15th.

A thank you to everyone who has come to meetings this year, we have had great turnout and hope to continue to see that moving forward. See you on September 20th!


- Ken Haase | Staff Geologist
Geocon Incorporated
2017 SDAG Secretary
SDAG Fall 2017 Fieldtrip
October 14th and 15th 2017. Optional Night on the 13th.
Julian-Banner District: A Road to Gold
Download field trip info and reservation form
The 2017 San Diego Association of Geologists annual trip on October 14 and 15, 2017 will traverse along State Route 78 and 79, from Ramona towards Julian, California. Surficial deposits will be re-examined to draw new conclusions. Curiously propagated gravels atop peaks will bewilder you. A plutonic complex will be observed at a daunting scale. The history of gold mining will be told and lode deposits examined within a mine. Gold prospecting spots will be revealed! A more detailed timeline will be provided, as itinerary can change, but for planning purposes please be ready for an 8am start on Saturday and conclusion of the trip on the following Sunday afternoon. For those not interested in camping, hotel accommodations in the Julian area might be available, but are not included in the registration cost and must be reserved independently.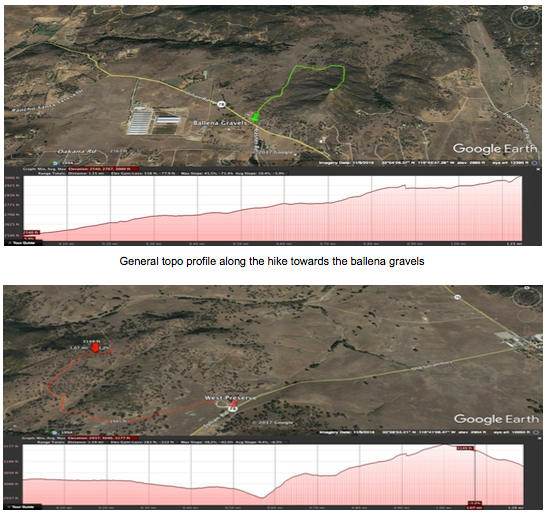 What is included:
Camping access at Menghini Winery
(you will need to provide personal camping equipment)
(portable restrooms will be provided, no showers)
4 meals (Saturday lunch, Saturday dinner, Sunday breakfast & lunch)
Snacks and beverages throughout trip
2017 SDAG fieldtrip Guidebook plus a bonus book
Memorable gift
A good time with friends and associates
Important Dates:
September 10, 2017: Last day to register, without late fee
September 30, 2017: Last day to register late
October 1, 2017: Registration is closed
October 14, 2017: Field trip begins!
October 15, 2017: Field trip concludes.

Preliminary Field Trip itinerary
I am happy to announce this SDAG 2017 field trip update and general itinerary. As previously discussed, this trip will take you along State Route 78 in Ramona and State Route 79 through Julian. In an effort to break up the monotony of a typical roadside geology field trip, this year, two short hikes will be incorporated to invigorate you. Prior to crawling underground in the Eagle Mine and visiting the Ranchito mine, we will explore the local geology of the area, including the Ramona plutonic complex, ballena gravels precariously outcropped atop a mountain top, surficial deposits will be re-examined (optional stop time pending), and gold claim/prospecting locations. For your convenience and assurance, that I am not leading you atop a hillside no less grueling as Mount Himalaya; I have provided a topographic profile, courtesy of Google Earth. Please note the itinerary is preliminary and is subject to change.
October 14, 2017
0700 - 0800: Registration check-in, continental breakfast (provided), coffee, water, orange juice, receive your memorable gift
0800 - 1100: Hike to the ballena gravels with discussion by Pat Abbott Round trip ~2.4 miles, Gross Elevation Gain ~600 feet
1100 - 1200: Miscellaneous stops pending time, gold claims, Pseudo Tsunami Deposits re-examined (speaker TBD and time permitting)
1200 - 1300sh: Lunch (provided) at Santa Ysabel West Preserve,
1300sh - to 1500: Hike to understand the Ramona Plutonic Complex with commentary by Mike Thacker Round trip ~2.4 miles, Gross Elevation Gain ~500 feet
1500 - 1600: Additional stops, time permitting
1600 - 1700: Arrive at Menghini Winery, set up your temporary homesteads, enjoy light conversation over drinks with friends, enjoy the rare opportunity to camp among the vineyards and orchards of Julian
1700 - ____: Dinner (provided), evening enjoyment and slumber

October 15, 2017
0700 - 0800: Breakfast (provided) and to-go-lunch (provided) for the afternoon
0800 - 1100: Rancito Mine at Right Fender Ranch, with commentary by Monte Murbach and Mike Hart. HIGH CLEARANCE VEHICLES ONLY
1100 - 1300: Subsurface exploration of the Eagle Mine with commentary by the mine's curators. Enjoy your lunch (previously provided) and depart the field trip at your leisure!
1300 - _____: New Stop! Enjoy a very rare opportunity to pan for your own gold on private land. We have been granted access to private property that is a tributary of the famous Coleman Creek. The creek where gold was discovered! This is optional and will require wading water, hiking, and pioneering prospector work, as last year's rains have spurred abundant vegetation along the banks. The owner will be taking a 50% royalty on recovered gold.

-Chris Livesey (SDAG Vice President)
---
Diamond-Lesedi La Rona sold for $53m to London Jeweller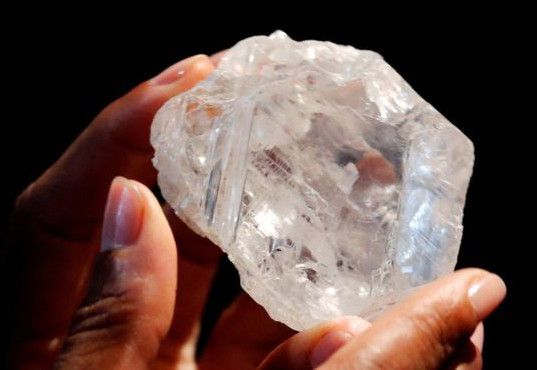 The world's second-largest gem-quality diamond has been sold to a London jeweller for $53m (£39.5m).
Laurence Graff, chairman of Graff Diamonds, bought the diamond privately after it failed to meet its reserve price at an auction last year.

The 1,111-carat stone was recovered by Canadian firm Lucara Diamond Corp in Botswana two years ago.

Lucara said the price was an improvement on the highest bid received at Sotheby's in June 2016.

The diamond is named "Lesedi La Rona", which means "our light" in Botswana's Tswana language.

The stone was first formed between 2.5 to three billion years ago and is roughly the size of a tennis ball. A team of cutters will work out the best way to maximize the stone's potential. As well as its size, the diamond has been certified as being of "exceptional quality and transparency" by the Gemological Institute of America.

---
Posted on August 14, 2017 by Temblor

---

---
Have you ever wanted to run through an active quarry surrounded by Early Cretaceous Santiago Peak Volcanics?
Well now is your chance! Vulcan Chula Vista is hosting a 3.7 or 7.4 mile run through their quarry in Chula Vista. The event is tax deductible and proceeds go to the Chula Vista Fire Fighter Association. The event will take place on October 28th.

Visit the website for pricing and sign up information: http://quarrycrusherrun.com/san-diego/

---
The San Diego geology community is saddened by the loss of Werner Landry last month. On a personal level, Werner was kind enough to let me use the City's shake table for my 7th grade science fair project. I will be forever thankful to him as it propelled me to pursue a career in Geology.

--Ken Haase (SDAG Secretary)

See Diane's Murbach letter to his Werner's wife below:
---
Dear Allison:

On behalf of the San Diego Association of Geologists (SDAG), a committee of the San Diego Geological Society, Inc. (SDGS), we would like to express our deepest sympathy for the loss of your husband Werner Landry.

Werner served as an officer for SDAG, completing his volunteer geologic service as our Past President in 1998. Werner's name is listed as a Past President on our web site (http://www.sandiegogeologists.org/). Werner organized our annual 1997 geologic field trip, and was an editor for our 1997 publication titled "Santa Cruz Island Geology Field Trip Guide," edited by James R. Boles and Werner Landry.

What you leave behind is not what is engraved in stone monuments, but what is woven into the lives of others. May you find comfort knowing that one so special will live on in the hearts of so many.

With warm regards,
Diane Murbach - Secretary SDGS
A Statement from PJ FitzGerald:

It is with deep sadness we share the news that our friend and former colleague, Werner Landry, passed away over the weekend after a challenging illness. Werner worked many years at DSD as the Senior Engineering Geologist, and for a time served as Interim Assistant Deputy Director, in the Building/Construction & Safety Division. In that position he provided geotechnical expertise on building permits issued by the department, including for many high-profile projects contributing to the redevelopment of downtown San Diego, and was frequently called upon to represent DSD for landslide and slope failure emergencies. Werner also served as a member of the San Diego region Urban Search and Rescue (USR) team, where he utilized his geotechnical expertise, as well as his skills as a mountaineer and former Marine medic. Out of the office, Werner lectured for The San Diego Natural History Museum, and was internationally acclaimed as an expert mountain climber -- for over 35 years he guided and led climbing expeditions to Nepal, Pakistan, Alaska, South America, Mexico, and Europe, including scaling Mont Blanc in the Himalayas. After retiring from the City in 2007, he spent a lot of time in Mexico learning to be a cowboy on his ranch, travelling, sailing, triathalon-ing and enjoying life with his wife, Allison Sherwood, also a former DSD colleague.

RIP Werner, you will be missed.
Plans for services are underway and will be shared when available.

PJ FitzGerald
Assistant Deputy Director - Project Submittal & Management Development Services Department

---
As part of the update for the San Diego-Tijuana Earthquake Planning Scenario, Working Group No. 1's "Fault Map Subcommittee" has completed the first publicly available bi-national active and potentially active fault map. This interactive GIS map includes the first publicly available active and potentially active fault map locations from the City of San Diego. The City of San Diego fault locations and activity of faults are based chiefly on interpretation of information contained in geologic reports by private consultants. The City of San Diego identifies active faults as Holocene (<= 11,000yr) and potentially active as Quaternary (up to 1.6my). City of San Diego fault investigations are ongoing that may require future revision of this map. This map is not a substitute for a site specific fault investigation. The map also includes an updated fault map layer from the State CGS. CGS suggests users defer to the City of San Diego fault data, where marked, for increased accuracy. The map also integrated the faults south of the border for a bi-national cross border view. You can expand the map legend on the left side to see the fault ages and sources for each layer that can be turned on or off for the map view. You can select from 1 of 12 base maps. You can click on the fault line on the map to see the meta-data source. This map includes the yellow dashed SURFACE FAULT RUPTURE location layer that will be used for the infrastructure, social, and economic impacts and emergency response for the update to the Earthquake Scenario. In addition, active and potentially active fault investigation locations from private companies are planned to be added to this map as a resource. This map is an on-going project and resource as our knowledge increases about local active and potentially active faults.

The link is available at: http://www.sandiegogeologists.org/Faults_map.html

I would like to thank Carolyn Glockhoff for her endless GIS work, Jim Quinn and the City for providing their data and time, Jerry Treiman with CGS for his time preparing the Surface Rupture and providing their new State fault data layer, and Luis Mendoza at CICESE for providing the faults south of the border. Please contact Diane Murbach (dianemurbach@gmail.com), Chair for the SD-TJ Earthquake Scenario Working Group #1 - Earth Science, if you have any questions, or see any errors on this new fault map.

Diane Murbach
(619) 865-4333
Engineering Geologist, C.E.G.
www.murbachgeotech.com
---
---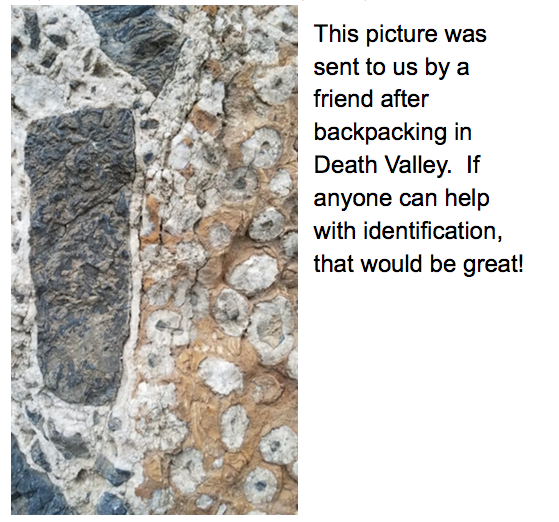 CALL FOR PHOTOS!
That's right!...It's back, the SDAG monthly photo competition, featuring the very best of member photo submissions from around the County and beyond. The prize is one free drink at the next meeting, so if you're a winner, just see our resident bartender extraordinaire, Cari Gomes at the next meeting.....or myself (The Secretary) if it's not a SDAG libation supplied event.
---

CALL FOR ARTICLES! SDAG invites members to submit articles on their current research or an interesting project they are working on for publication in the monthly newsletter. The article should be no more than 1 page in length. Photos are welcomed, too! Please submit articles to the SDAG secretary via email.
---

FOR SALE: Hargrave Environmental Consulting. Lots of equipment and supplies $50k. Contact clhargrave@gmail.com

---

Yosemite Conservancy Outdoor Adventures featuring custom adventures.


---

STATE REGISTRATION EXAM HELP One of our new members, Sergio Postigo who has recently moved to the San Diego area, will be taking his registration exams later this year for the PG. Sergio is looking to meet up with anyone who may be interested in forming a study group for the exam and/or hear from anyone who has recently taken the exam and can provide some useful insights. He can be contacted at Email sergiopostigo@yahoo.com

---

Got too many rocks? Are you (or specifically, your spouse...) interested in giving them a good home *away* from your house and garden? Mesa College is looking to collect some rock samples for an inaugural Earth History course. We are specifically looking for sedimentary rocks that include examples of different energy environments (varying grain sizes and shapes) and structures (ripples, cross bedding, planar bedding, graded bedding, etc.). We are also looking to beef up our fossil collection and are looking for all the major phyla: Echinoderms, brachiopods, mollusks (bivalves, cephalopods, gastropods), arthropods (trilobites and more!), corals (Cnidaria), Porifera, Bryozoa, vertebrates (Chordata), etc. Looking for both actual standalone specimens or in the rock still (showing different environments of deposition). We are looking for fossil preservation examples, and also for good trace fossil evidence. Got any sediment grain samples from cool locales? We'll take them! If you have anything else you think provides a good 'story' in the rock, we are willing to check it out! We are collecting ASAP to assess how much needs to be ordered for the fall course. Please contact Jill Krezoski at JillKski@hotmail.com or Don Barrie at dbarrie@sdccd.edu with queries or samples.
---

ROCK DONATIONS NEEDED: Amy Romano, one of our former student members, is looking for rock donations. Amy is currently attending Humboldt State University and majoring in Geology. She is very involved with Humboldt's Geology Club, and every year the club holds a rock auction to support their activities. If you have any rocks to donate, please contact Amy at ajr612@humboldt.edu.
---
Annual Scholarship Awards by the San Diego Association of Geologists, a program of the San Diego Geological Society, Inc.
A primary function of the San Diego Association of Geologists (SDAG) is to support academic opportunities in geology and related sciences. By-laws of the San Diego Geological Society (SDGS) specify the support of academic opportunity ranging from elementary through graduate levels. The SDAG scholarship program has supported academic research in higher education by awarding scholarships annually to students from two-year and four-year undergraduate and master's level programs. Awards are for outstanding research in geology and related sciences. Nominations are solicited from individual faculty and from geology or related science departments at accredited academic institutions. Evaluation of the relative merit of each nominee is based on an abstract describing the objectives and results of the research being conducted by the student and on the letter of recommendation by the student's mentor or nominating committee.

The annual timeline is as follows:
Request for nominations occurs in September.
Nomination letters and research abstracts are received by the Scholarship Coordinator in mid to late October.
Awardees and their nominators are invited to attend the December SDAG dinner meeting. Scholarship awards are distributed to the student during the December meeting.
Students accepting awards are required to give a presentation of their research results usually at a spring dinner meeting of SDAG.
For further information contact SDGS Board at http://www.sandiegogeologicalsociety.org/contact.html through the Contact Us option
---
SDAG RESEARCH TOOL
A comprehensive listing of all papers published by SDAG, whether as annual field trip guidebooks or special publications, is available on our website. Entries are sorted by primary author, or chronologically by date of publication, from our first guidebook in 1972 (40 years ago!) to Palms to Pines and San Luis Rey volumes recently printed. These can be accessed or downloaded as .pdf files. They are fully searchable in Adobe Reader or Acrobat, so if you are researching a topic, "tsunami" for example, you can search for that keyword. This listing will be updated as new books are published. Thanks to Greg Peterson and Hargis + Associates, Inc., for making this possible. See the links below:
SDAG publications sorted by senior author.
SDAG publications sorted chronologically.
---
Request for Sponsors: 2017 SDAG/SDGS and Publication SPONSORS
On behalf of the San Diego Geological Society, Inc. (SDGS), a public benefit 501(c)3 nonprofit educational corporation, we would like to request tax deductible Donations at our San Diego Association of Geologists (SDAG)

The list of paid Sponsors and the forms to become a Sponsor are located on the SDAG web site at: http://www.sandiegogeologists.org/Sponsors.html.
Your donation will further the SDGS mission to promote geology and related fields in the greater San Diego region, operating through the San Diego Association of Geologists (SDAG), a committee of SDGS. To achieve our primary educational objective, we organize frequent field trips and maintain a program of monthly meetings featuring speakers on current geological topics. We also publish field trip guidebooks and other publications related to geology and natural history. We encourage scholarship and research by awarding scholarships from the elementary through graduate levels. With your $100 "EMERALD" donation, your name/business will be listed as a sponsor on the SDAG web site (http://www.sandiegogeologists.org/) and in the monthly SDAG meeting newsletters. With your $500 "RUBY" or $1,000 or more "DIAMOND" level donation, your business card will also be included on the SDAG web site and in the monthly SDAG meeting newsletters. In addition, as a "$1,000 or more DIAMOND" level donation you will be presented with a thank you plaque. Should you have any questions regarding a Sponsorship, please contact our non-profit SDGS Secretary (Diane Murbach) at 619-865-4333.
---
SDGS/SDAG
As many of you are aware, the San Diego Geological Society (SDGS) was formed in early 2010 as an official non-profit 501(c)3 corporation, and SDAG is now an organization under this corporation. The reasons for doing this were many and they are spelled out in an informational sheet, the Business Plan of SDGS. The officers of SDGS should be very familiar to you, as they are all past presidents of SDAG. For those of you that would like to read more about SDGS and what it means to SDAG, check out the informational page on the website. Also check out the website www.sandiegogeologicalsociety.org.

---


Abstract Deadline: August 1, 2017
Early Registration Deadline: August 18, 2017
Meeting Dates: 22-25 October 2017 in Seattle, Washington

Annual Meeting 2018
Field Trip Submission Deadline: December 1, 2017
Session and Short Courses Deadline: February 1, 2018
Abstract Deadline: August 14, 2018
Meeting Dates: November 4-7, 2018 in Indianapolis, Indiana
---
VINTAGE SDAG GUIDEBOOKS NOW AVAILABLE FOR FREE DOWNLOAD!
If you want to complete your collection, or just see what SDAG was up to in the 1970s, check out our website's publication page, and scroll all the way down: http://www.sandiegogeologists.org/Publications.html In addition to our very first publication in 1972, a field trip to Otay Mesa, you'll find our 1973 Geology and Hazards of San Diego volume, the first of two guidebooks to the Coronado Islands, in 1978, and our 1987 field guide to the gold mines of Julian. Happy reading!
---

WAREHOUSE AND OFFICE SPACE AVAILABLE in El Cajon
Short-term rental or long-term lease. Warehouse from 3125 to 6250 sq. ft. Two remodeled offices. Mix and match to meet your needs. Ideal for geotech operations; best possible rates, and we are geology friendly. Contact Lowell Lindsay at Sunbelt Publications 619-258-4911 x110.
---

SDAG Wear - Monte (Murbach) has a variety of shirts, hats, visors and even a nice vest with the SDAG logo. A small selection is available for purchase at the meetings; all SDAG wear can be ordered from Monte.
---

DO YOU HAVE AN ANNOUNCEMENT?? Do you have an event, job opening, field trip or other announcement you would like to share with our members?? Just call or email our SDAG Secretary.
---
Wednesday seminars, 1 - 2 pm, SDSU in the Chemistry-Geology Building, room CSL-422. Check http://www.geology.sdsu.edu/seminars/ for details.
Department of Geological Sciences
San Diego State University
San Diego, CA 92182-1020
FAX (619) 594-4372 VOICE (619) 594-6394
*****Parking near campus is limited. There are two lots of meters on the SE side of campus off College, for example and it would be about a 5 minute walk from there. The first lot is meters, and the deeper lot is less expensive ticket machine. *****
The Gordon Gastil Endowed Scholarship Fund continues to seek donations of any amount. Gifts of $ 500.00 or more will be recognized on a plaque to be placed in the remodeled Geology Building. Donations can be sent through SDAG, or contact Pia or Marie, Department of Geological Sciences, SDSU, at (619) 594-5586.
---
Jennifer Luscombe (current student M.S. student at SDSU) and the SDSU-AAPG student chapter officers are beginning the 2016/2017 academic year. Their intention is to support student interest in petroleum and geology related fields. The AAPG student officers are currently organizing an event to stockpile the students with geology supplies and funds to attend the AAPG event in Las Vegas and GSA event in Denver. Details of the event will be forthcoming.
---
---
---
---
---
Meetings are generally held the 4th Thursday of the month at 11:30AM at the Grand at Willow (check their website http://www.labgs.org/ for their newsletter, for more details, and to make a reservation). Reservations Are Essential.

---
---
The SCGS usually meets on the first Monday of every month, in Orange County. For more SCGS information, visit their website at: http://www.southcoastgeo.org.


---
Check the West Coast Petroleum Technology Transfer Council website http://www.pttc.org/west_coast/west_coast_home.htm/ for workshop date and location.
---

Our website manager, Carolyn Glockhoff, can create a link from any Corporate Sponsor's listing on the SDAG website to its company website, if one exists. Also, please send the URLs of your favorite geology sites to carolyn@caro-lion.com for listing on the Geologic Links page. These could be data resources, schools, useful government contacts, geologic software, contractors, laboratories, your own company's website, or anything you think would be useful to your colleagues.
---

DO YOU HAVE AN ANNOUNCEMENT?? Do you have an event, job opening, field trip or other announcement you would like to share with our members?? Just call or email Ken Haase 2017 SDAG Secretary. Any news regarding upcoming events that may be of interest to the Association or news of your business can be submitted.